Women's Tennis: Cavalier alum Brinker Simmons to be presented ITA Achievement Award
Courtesy UVA Media Relations
The Intercollegiate Tennis Association is pleased to announce Cindy Brinker Simmons as the recipient of the most prestigious award in collegiate tennis, the ITA David A Benjamin Achievement Award, endowed by Margie and Stan Smith. Brinker Simmons will be honored at a dinner during the ITA Leadership Awards Weekend presented by Limoneira, which will take place at the Yale Club in New York City on Saturday.
A graduate of the University of Virginia in 1979, where she lettered on the Virginia women's varsity tennis team and served as captain her senior year, Brinker Simmons made the transition from the tennis courts to the world of public relations, founding her own company, Brinker Communications. In 2004 Brinker Communications merged with Levenson Public Relations to form Levenson & Brinker Public Relations, a full-service strategic communications company. Brinker Simmons would serve as the President of the Levenson & Brinker Public Relations firm until 2012 when she retired to pursue writing.
Each year since 1994, the ITA David A Benjamin Achievement Award has paid tribute to past participants in the world of varsity tennis who have achieved excellence in their chosen careers. The award honors both professional success and contributions to society made either as a result of a career or through humanitarian efforts. Endowed by Margie and Stan Smith in 2015, the ITA Achievement Award honors the long-serving Executive Director and ITA Chairman of the Board, Dr. David A Benjamin.
"I am deeply humbled and honored to be presented with the 2023 ITA David A. Benjamin Achievement Award," said Cindy Brinker Simmons. "From my years in junior tennis through four remarkable years at the University of Virginia, this grand sport has taught me how to graciously deal with victory and loss, manage pressure, and treasure discipline and determination. Tennis has blessed me with such beautiful friendships. After my competitive tennis years, it has been a great joy to serve others through my business and philanthropic efforts. Again, I am deeply grateful for this most distinguished award."
"College tennis develops championship human beings on and off the court," proclaimed ITA Chief Executive Officer, Dr. Timothy Russell.  "Cindy Brinker Simmons joins a distinguished list of college tennis players who have risen to the top of their respective professions while offering public service to our country and beyond. In being named the 2023 ITA David A Benjamin Achievement Award laureate, Cindy takes her place amongst a very special group. We look forward to honoring her at this year's ITA Leadership Weekend Dinner."
"The lessons learned on the tennis court during the college years serve as a critical companion to the academic lessons of higher education," noted ITA Chairman Emeritus, David A Benjamin. "The winners of the ITA Achievement Award are extraordinary individuals who benefited from the experience of intercollegiate competition, went on to outstanding accomplishments, and have made significant contributions to their communities. Cyndi Brinker Simmons, our 2023 ITA Achievement Award Laureate, is a marvelous embodiment of this award."
Coinciding with her work in the field of public relations, Brinker Simmons began her work in the field of philanthropy after graduating from college, establishing Wipe Out Kids' Cancer (WOKC) which has since grown into one of Dallas' largest pediatric cancer non-profit organizations. Brinker Simmons established WOKC in memory of her mother, the late great tennis champion Maureen "Little Mo" Connolly Brinker, who died of cancer in 1969 at the age of 34.
Behind the success of her public relations firm and WOKC, Brinker Simmons was appointed by Texas Speaker Tom Craddick in 2008 to the Oversight Committee of the Cancer Prevention and Research Institute of Texas (CPRIT), a state agency designed to fund groundbreaking cancer grants and to bring top cancer specialists to the state. During her time serving on the CPRIT Oversight Committee, she helped manage over $3 billion in general obligation bonds that helped fund innovative cancer research as well as prevention programs and services throughout the state.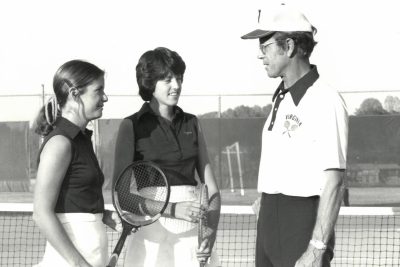 Outside of these efforts, Brinker Simmons also serves as the President of the Maureen Connolly Brinker Tennis Foundation (MCB), one of the most respected junior tennis organizations worldwide, while also serving on the boards of Dallas Theological Seminary and East-West Ministries International, Virginia Athletics Foundation at the University of Virginia, Greater Dallas Metroplex Salvation Army, North Texas Food Bank, and the International Tennis Hall of Fame to name a few.
Brinker Simmons has been honored on numerous occasions for her contributions to the Dallas community, including the Dallas Tennis Association Lifetime Achievement Award, the Dallas Mother of the Year, and the Children's Hope Award from Orphan Outreach.
𝐇𝐨𝐧𝐨𝐫𝐢𝐧𝐠 𝐄𝐱𝐜𝐞𝐥𝐥𝐞𝐧𝐜𝐞 𝐎𝐯𝐞𝐫 𝐀 𝐂𝐚𝐫𝐞𝐞𝐫
Congratulations to Cindy Brinker Simmons on being named the 2023 ITA David A Benjamin Achievement Award winner, the most prestigious award in college tennis! Details 👇 #GoHoos⚔️https://t.co/sY9YuXP2mh

— Virginia Women's Tennis (@UVAWomensTennis) August 22, 2023