Blue Ridge Bank Wahoo Preview: NC State at Virginia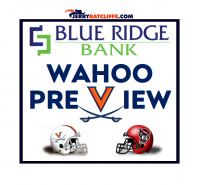 Virginia welcomes longtime ACC rival NC State for a noon kickoff Saturday (ACC Network), as the Cavaliers will be aiming for a 10th straight win at Scott Stadium.
The Wahoos (1-1, 1-1 ACC) came up short at top-ranked Clemson over the weekend, 41-23, while the Wolfpack (2-1, 2-1) rallied late and pulled the 30-29 upset of No. 24 Pitt on the road.
Dave Doeren's squad was trailing the Panthers by five with under two minutes to go when redshirt sophomore quarterback Devin Leary led an 8-play, 79-yard drive (in just 1:21) to put the Pack on top with 23 seconds to play.
Leary (28 for 44, 336 yards) threw four touchdown passes on the day against the Panthers — two to 6-foot-7 senior tight end Cary Angeline, and the other two to 6-3 junior wideout Emeka Emezie — to mark the conference's only four-TD passing performance in a game so far this season.
"It was good to see him get out there and playing fast and confident," Angeline said of Leary's first start of the season.
Leary, who played backup to Bailey Hockman for the first two games before taking over under center midway through Game 2, earned ACC Quarterback of the Week honors as a result, while Emezie garnered ACC Co-Receiver of the Week acclaim.
"I think [the Cavaliers] have a very good defensive scheme," Leary said earlier this week. "They definitely try to show multiple different coverages, multiple different types of pressures as well. I think they have very long, athletic players that are very good."
The Hoos and Pack last faced off in Raleigh in 2018, with the Wolfpack coming out on top, 35-21, and Emezie played a key role in the State victory, along with tailback Ricky Person Jr., then a freshman. Both are still predominantly featured in the Wolfpack offense.
After surviving a wild one, 45-42, in the home season opener against Wake Forest, last week's road game was the second in three weeks for NC State, after getting topped by a shorthanded Virginia Tech squad on Sept. 26, 45-24, in Blacksburg.
State's secondary has struggled over the last two contests, giving up 10.6 yards per pass against the Hokies and 10.3 against Pitt. Those were two of the five worst performances by an ACC defense in 2020. To make matters worse, the already-thin Wolfpack DB unit will be missing both junior nickel back Tyler Baker-Williams and sophomore safety Rakiem Ashford for a second straight week, both of whom have started at least one game this season.
The NC State defenders are aware of what Brennan Armstrong can do with his legs, which should keep them on their toes as the Hoos will try to exploit the Pack in the passing game.
"He's more of a run threat than he is a pass threat, so with that being said, we've just got to make sure we keep a cage on him and keep him contained," said State junior safety Tanner Ingle of Armstrong's dual-threat capability.
Doeren has been impressed by what he's seen from Armstrong.
"I think he's a very competitive, physical, hard-running guy, and there's a lot of run game designed for him that way," Doeren said of Armstrong. "He's not a guy that slides and he's physical, and we respect that about him.
"So we've got to do a good job containing him, we've got to tackle him, we've got to force him to beat us throwing the football, too. We've got to make that run game be something that's not keeping them on the field… I know he'll compete hard, you can see that on film."
Coach Doeren said his team has been practicing much harder since the 21-point loss to the Hokies.
"I think this team learned a lot," he said. "We've spoken about that already, coming out of the Virginia Tech week, and they put an action plan in place for last week that was successful for them, so they've tried to take that same plan, that same approach, and we had a good week of practice.
"Is it good enough to win? I guess we'll find out this weekend, but there definitely wasn't a day where I didn't feel like we were competing the way we need to."
As of this writing, UVA is right around a touchdown favorite to beat the Wolfpack. Here's a look at where each team ranks in the statistical categories of the 15-team ACC: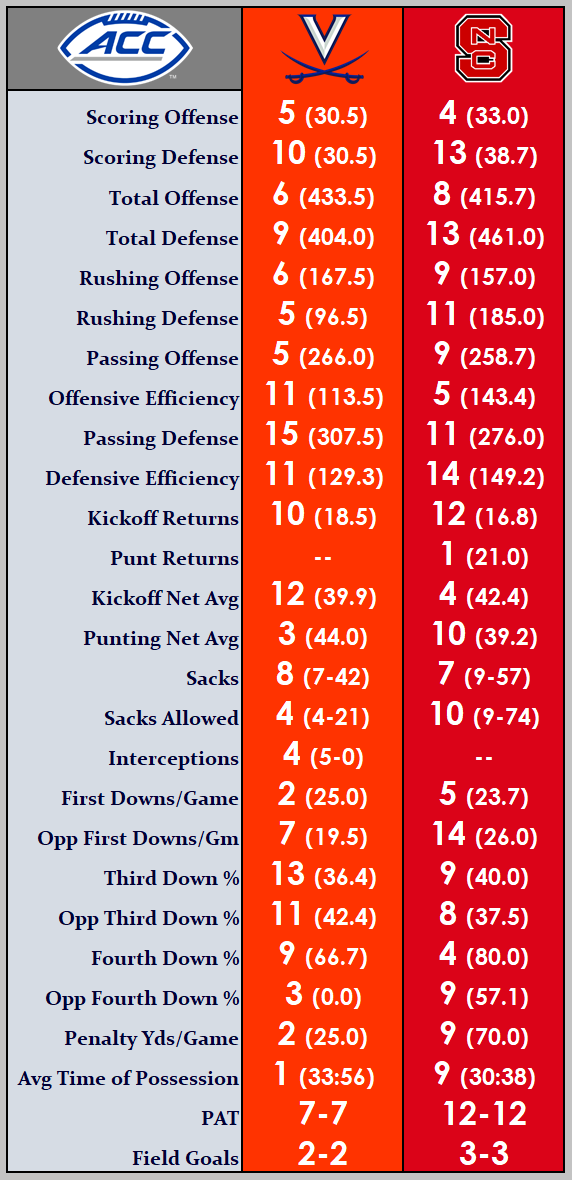 The Breakdown
Below you'll find the complete statistical comparison between the Cavaliers and Wolfpack. For more, check out our Wahoo World podcast for a deeper dive into Saturday's game, recap of the Clemson loss and preview of this weekend's big ACC contests: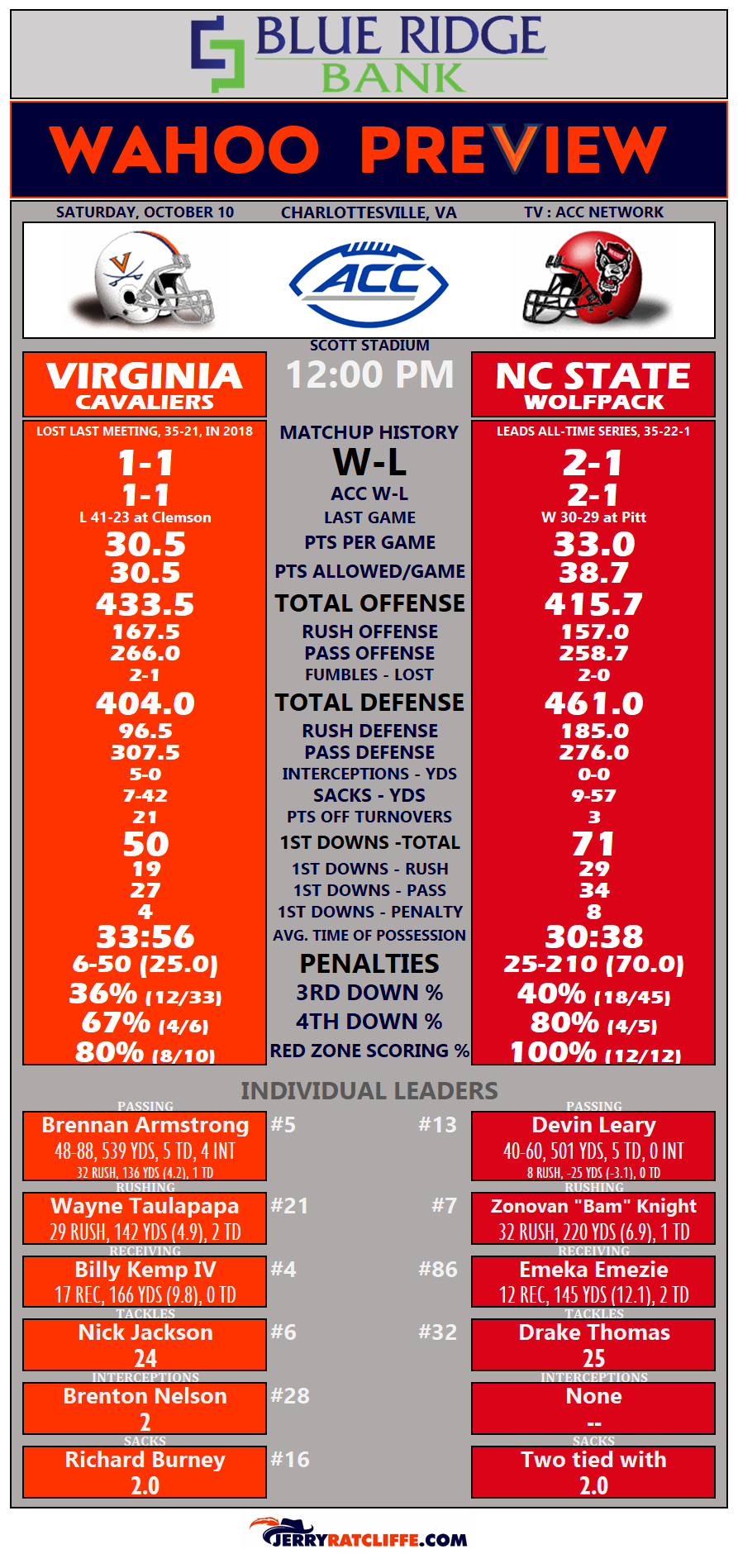 The Coaches
UVA — Head Coach Bronco Mendenhall

5th season at Virginia (26-28); 16th season overall (125-71); Record vs. NC State: 0-1
Assistant Coaches:
Offensive Coordinator/Inside Receivers — Robert Anae
Co-Defensive Coordinator/Secondary — Nick Howell
Co-Defensive Coordinator/Outside Linebackers — Kelly Poppinga
Running Backs — Mark Atuaia
Quarterbacks — Jason Beck
Special Teams Coordinator/Tight Ends — Ricky Brumfield
Wide Receivers — Marques Hagans
Inside Linebackers — Shane Hunter
Defensive Line — Clint Sintim
Offensive Line — Garett Tujague
NC State — Head Coach Dave Doeren

8th season at NCSU (49-43); 10th season overall (72-47); Record vs. UVA: 1-0
Assistant Coaches:
Offensive Coordinator/Quarterbacks — Tim Beck
Defensive Coordinator/Linebackers — Tony Gibson
Nickels — Freddie Aughtry-Lindsay
Safeties — Joe DeForest
Offensive Line — John Garrison
Special Teams Coordinator/Tight Ends/Fullbacks — Todd Goebbel
Asst. HC/Passing Game/Receivers — George McDonald
Cornerbacks — Brian Mitchell
Running Backs — Kurt Roper
Defensive Line — Charley Wiles
Broadcast Information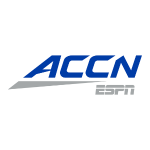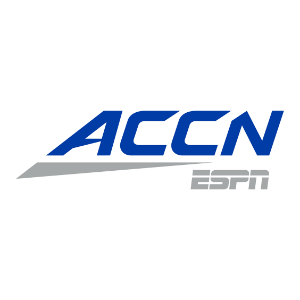 TV: ACC Network
Announcers: Wes Durham (play-by-play), Tim Hasselbeck (analyst), Katie George (sideline)
Radio: Virginia Sports Network
Announcers: Dave Koehn (play-by-play), Tony Covington (analyst)
Satellite Radio:
Sirius Channel — 136
XM Channel — 194
Internet Channel — 956
Kickoff Forecast
Cloudy, 70 degrees
Precipitation — 7%
Wind — SSW 7 mph
Humidity — 74%
(Courtesy AccuWeather)
The Depth Charts
Virginia:
NC State: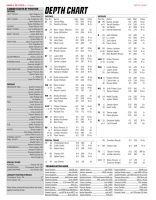 UVA Offensive Player Stats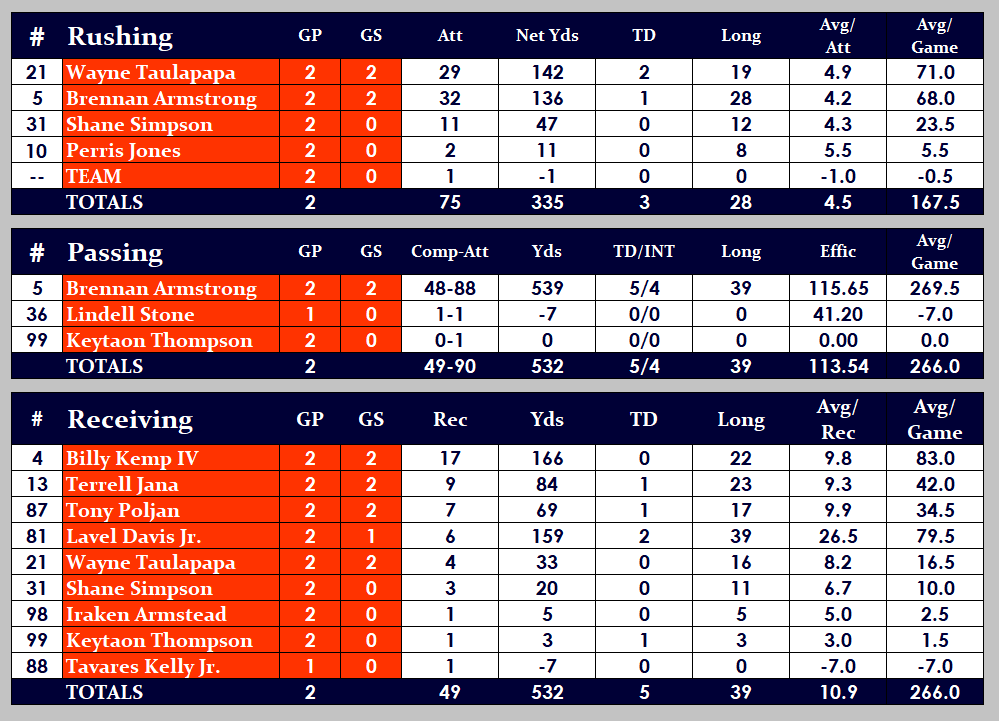 UVA Defensive Player Stats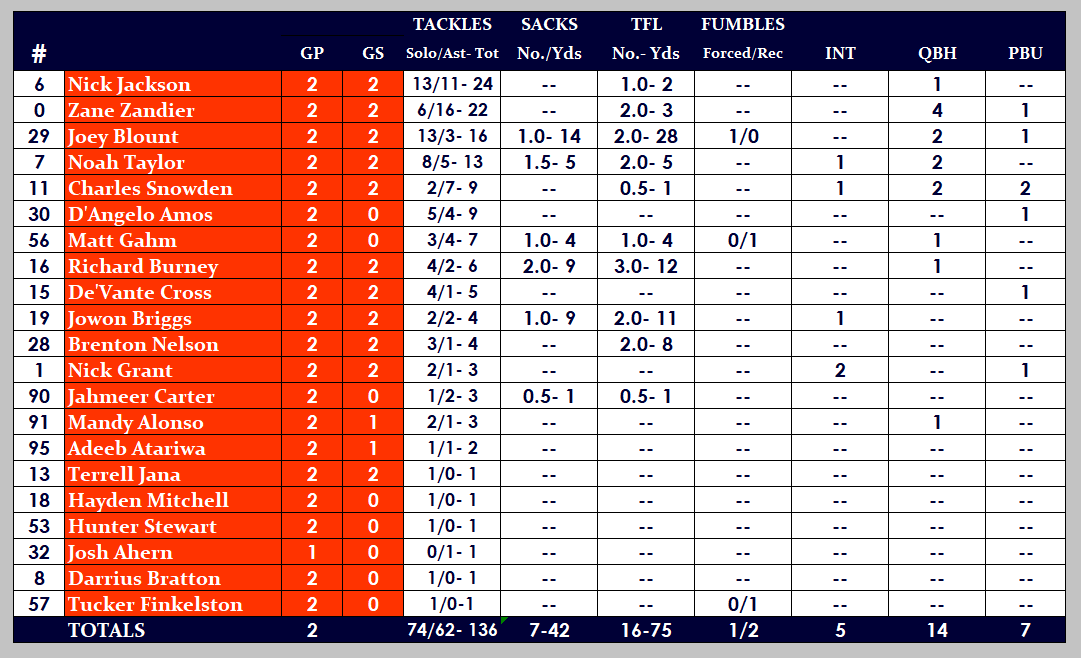 UVA Special Teams Stats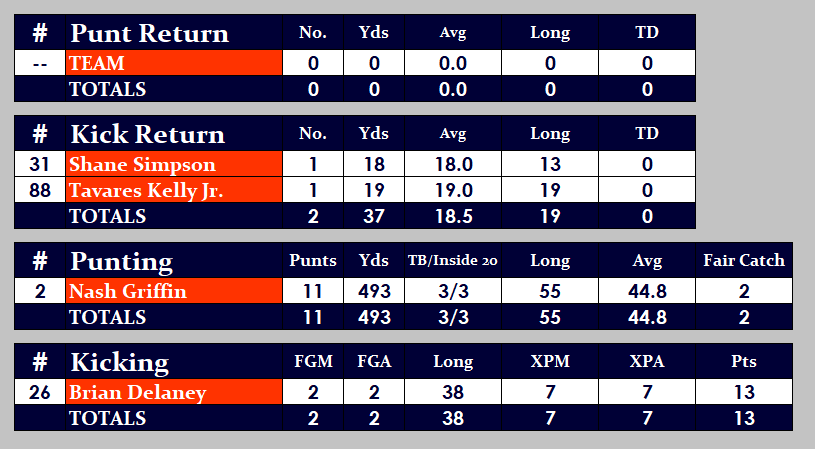 ACC Standings/Schedule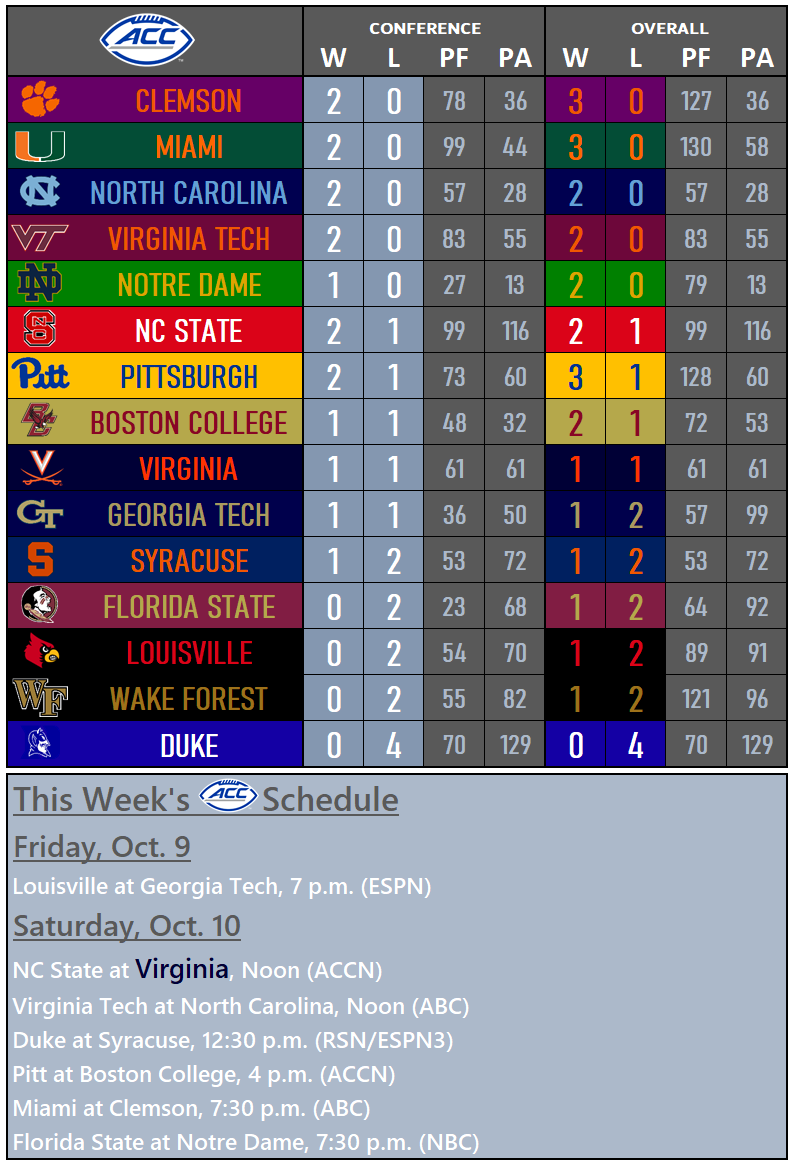 The Uniforms
Virginia: White helmets, Orange jerseys, White pants
The Uɳι 𝗦𝗰𝗵𝗲𝗺𝗲 for Saturday is a 𝕔𝕝𝕒𝕤𝕤𝕚𝕔 💯

⚪️🟠⚪️#GoHoos | #THEStandard 🔶🔷 pic.twitter.com/oUhkcf4YhD

— Virginia Football (@UVAFootball) October 8, 2020
NC State: Red helmets, White jerseys, Red pants
Because it worked pretty well the first time…

Uniform combo vs. UVa: 🔴⚪️🔴@adidasFballUS pic.twitter.com/Xeo3Er4CZR

— NC State Football (@PackFootball) October 8, 2020
Game Tape

Highlights from each team's last contest
Virginia — lost at Clemson, 41-23:
NC State — defeated Pitt, 30-29:
Game-Week Links
In case you missed any of our coverage from this week or team previews/features over the offseason, we've got you covered. Click on any link below to catch up:
Who will make the 50-50 catches, Cavaliers or State's big receivers?
Will 'Coach Ruff' be 'Charlottesville dangerous' on Saturday?
With Keytaon Thompson, we ain't seen nuthin' yet
Ten things we learned about Virginia football after Clemson
Armstrong hoping to avoid slow start against NC State
Bronco talks NC State, and UVA Football notes
Virginia's offense making a splash in national rankings
Postgame Notebook: Virginia offense posted big numbers against No. 1 Clemson
Bronco: We came here to win, not reach benchmarks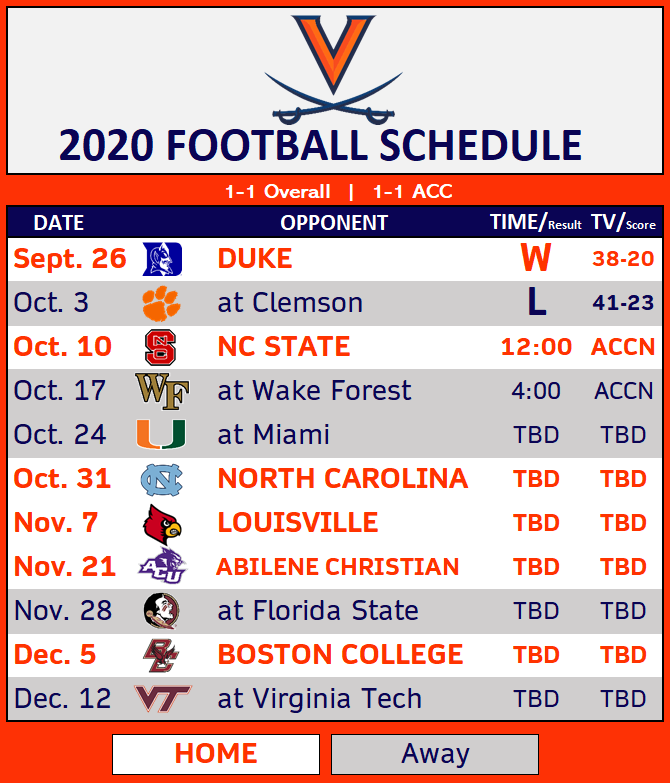 Comments