Bronco: We have more unknowns than Duke has unknowns
UVA football notes, Walker update, who's missing …
By Jerry Ratcliffe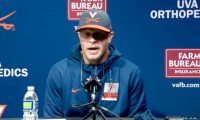 After practicing for 12 weeks and having somewhat prepared for five different season-opening opponents, Bronco Mendenhall is holding his breath that his Virginia football team will actually get to play a game this Saturday afternoon against Duke.
"We're anxious to play football," Mendenhall said during his regular game week presser Monday via a video conference with the media.
Both Mendenhall's Cavaliers and Duke's David Cutcliffe will have advantages and disadvantages coming into the game. The Blue Devils are 0-2, but have an advantage of having played two games to get the kinks out. While UVA hasn't played a game to reveal strengths and weaknesses, its coaching staff and players have had the opportunity to study Duke, while Duke has nothing to go on, no video of the Cavaliers.
"It's a significant concern," Mendenhall said about the Blue Devils having two games of experience to build on. "Playing is really the only real feedback and accurate feedback that you get.
"After a game, it becomes so much clearer where your team stands, where your position groups are and who's capable and consistent and finishing plays. Then there's usually a significant jump between game one and game two, which adds to that narrative and allows identity to be formed and forged at even a higher level."
UVA has scrimmaged several times  against itself with live tackling to the ground over the extended fall camp, but still it's difficult to determine specifics about a team until it's facing live bullets.
"I would just say that we have more unknowns than Duke has unknowns," Mendenhall said. "That's just how it is."
Mendenhall and his staff have had to don their Dr. Phil hats in order to keep their team sharp for such an extended camp so as not to lose focus. Psychology is part of keeping a team ready to play, especially when one game after another is canceled, postponed, or moved.
First, UVA was supposed to open the season Labor Day evening against Top-10 Georgia in Atlanta's Mercedes Benz Dome before a national television audience. That focus turned to VMI in Charlottesville, but VMI's season was suspended when the Southern Conference decided it will wait until spring.
So that made Virginia's biggest rival, Virginia Tech, the Cavaliers' opener, scheduled for last Saturday in Blacksburg. Only problem was, the Hokies couldn't field a team because so many of their players were impacted by Covid-19. That left UVA in a pickle, with no game scheduled until Oct. 3 at No. 1 Clemson.
The ACC stepped in and convinced Duke to move its Nov. 14 scheduled game up to this weekend.
"It's been a challenge," Mendenhall said of the five different openers. "The simplest narrative is probably the boy who cried wolf. I think the players realize now that we made it to a Monday of game week, that this one is real."
The Cavaliers tested for Covid on Monday with no players testing positive. They will test again Wednesday and again on Friday. Mendenhall acknowledged that his team's dynamic could change, but as of Monday his team has given him no reason to question them following protocols they've followed all summer.
"I think there was a relief in our team this morning that we're actually into the week with an opponent and still capable and ready to play," Mendenhall said. "We're hopeful to have that come to fruition."
Cutcliffe said Monday (see related story) that he was concerned about having to face Virginia without any game video to review. UVA will be the third straight opponent Duke has faced without having any game video to study.
Mendenhall understands how that can impact game-planning for an opponent.
"I think the tactical advantage comes to us just simply because there isn't much tape on Brennan Armstrong and what our offense looks like with Brennan, rather than Bryce (Perkins)," Mendenhall said. "If I was a defensive coordinator, I'd want to know as much about the quarterback, how that might change the style of offense, what that might look like and I'd love to have that certainty, or more certainty, in that regard."
The UVA coach said that regardless of opponent, Duke is clear about its defensive identity, clear to its approach, which allows the Blue Devils to adjust and adapt quickly because of their system.
"Having said that, I would be more comfortable if I was a coordinator if I'd seen some actual game film of what the opponent looks like and what style they're playing and what changes have been made," Mendenhall said.
Wahoo Notes
Waiting on Walker
Indiana transfer running back Ronnie Walker Jr., of Hopewell, has been waiting on his appeal to the NCAA for immediate eligibility for quite some time. He's still waiting.
"Our administration is literally checking with the NCAA every day," Mendenhall said about the appeal. That will continue until we get a final answer, and hopefully a reasonable and accurate answer this time."
Opted out
Senior offensive tackle Alex Gellerstedt, who transferred to UVA from Penn State after the 2018 season, has opted out for 2020. Mendenhall confirmed that Gellerstedt made the decision this past week.
"We're not quite as deep in the offensive tackle spot as we were going into [this season]," the coach said.
Not ready yet
Mendenhall also confirmed that senior inside linebacker Rob Snyder and junior offensive tackle Bobby Haskins have not yet been cleared to play and did not appear on the team's depth chart (see related article) that was released Monday.
"Both of them are not ready or cleared yet" Mendenhall said. "We're hopeful that they could be back next week. I can't promise that yet, that's what we're hopeful for. We were hopeful for this game but certainly I don't think either will be available for this game.
"We're hopeful for Clemson (Oct. 3) for both of them. If not, it'll be the same narrative each week. 'They're close but not quite ready,' is the safest way to put that. The rest of the roster is healthy and deep."

Comments