Coach Mox on a roll; adds Lauterbach, Noyan to stacked UVA roster
By Scott Ratcliffe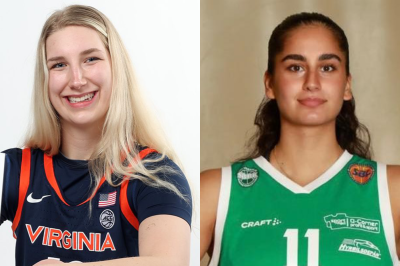 It truly must have been a happy birthday for Virginia women's basketball coach Amaka Agugua-Hamilton, who on Thursday added two frontcourt players to her squad.
Coach Mox sent out a couple of tweets Wednesday, hinting at some exciting news, and then announced Thursday afternoon that Kansas State grad transfer center Taylor Lauterbach had committed to the Cavaliers.
Later Thursday evening, the news leaked on social media that Edessa Noyan, a talented 6-foot-2 forward from Sodertalje, Sweden, is also committing to the UVA program as part of the loaded 2023 recruiting class.
Lauterbach, who is listed at 6-7, will have two years of eligibility remaining upon arrival. Both players will add even more experience and depth to an already-stacked 2023-24 roster.
The need for size was certainly addressed, as the Cavaliers will have a true rim protector in Lauterbach, a native of Appleton, Wisc., who registered 42 blocked shots in her three seasons with the Wildcats. Although she didn't put up huge numbers at K-State (1.5 ppg, 1.9 rpg), Lauterbach should provide a much-needed, big-body presence in the paint.
Agugua-Hamilton is pumped to inject Lauterbach's size into the lineup, and is just as ecstatic to be able to help her add to her skill set and see her game grow with the Wahoos over the next two years.
"I'm thrilled to welcome Taylor into our family," Agugua-Hamilton said. "Taylor is a high-academic student-athlete committed to the grind on and off the court. She is a hard-working high-character kid who is tall, long and mobile. She can block and alter shots in the paint. She also has great hands and can catch and score, as well as shoot the 15-foot/3-point shot. Her potential is off the charts! I am excited that she has two years to develop under our tutelage. Her future is bright!"
Last spring, Lauterbach competed in the Red Bull USA Basketball 3×3 Nationals, and she was ranked the No. 12 center in the country by espnW HoopGurlz as a high-school senior in 2020.
Noyan, meanwhile, is regarded as one of the top forwards coming out of Europe. She helped lead her U18 Swedish National Team to a 2022 Nordic Championship, averaging 18.8 points and 9 rebounds along the way.
Noyan initially committed last fall to play at San Francisco, but will be joining the Hoos' top-15 Class of 23, which includes local products Kymora "Mo" Johnson, a McDonald's All-American from St. Anne's-Belfield, and Olivia McGhee, a native of Louisa County who spent her senior year at IMG Academy in Florida. Next season, UVA will also add 6-1 forward Breona Hurd, who has already committed to the program.
Last week, Coach Mox revealed that Paris Clark, a 2022 McDonald's All-American guard, will be transferring from Arizona. All the aforementioned names will be joining the Cavaliers, who are returning nearly their entire roster from this past season.
The Hoos are expected to have leading scorer Camryn Taylor (13.9 ppg, 6.2 rpg) back, along with two more former McDonald's All-Americans — forwards Sam Brunelle (11.0 ppg, 4.0 rpg) and Mir McLean (12.2 ppg, 9.6 rpg), both of whom had their seasons shortened due to injury. Also expected to return for one more year are London Clarkson (6.9 ppg), Kaydan Lawson (5.6 ppg), Alexia Smith (5.6 ppg), Yonta Vaughn (3.4 ppg) and Cady Pauley (3.5 ppg), each of whom saw significant minutes throughout the past season. Point guard Taylor Valladay (10.0 ppg) entered her name in the transfer portal at the conclusion of the campaign, while McKenna Dale (5.5 ppg) has exhausted her eligibility.
In her first season at the helm, Agugua-Hamilton led the Cavaliers to a 12-0 start and a top-25 ranking, and has reignited the program with her fierce competitiveness and ability to get the most out of her players. Now, with a couple more talented pieces, the Hoos will be poised to make some more noise in Year Two.
Wahoo Nation! Join us in welcoming Taylor Lauterbach into our family 🫶

– 6'7 Center
– 2020 ESPN National Position Rank #12
– Played in 2022 Red Bull USA Basketball 3×3 Nationals
– 2022 Academic All-Big 12 First Team
– Two-time Big 12 Commissioner's Honor Roll pic.twitter.com/1f1BZls9fx

— Virginia Women's Basketball (@UVAWomensHoops) April 13, 2023