Edgington's golden arm delivers behind hot bats as Wahoos head to Omaha
By Jerry Ratcliffe
Following Friday's narrow 5-4 loss to Duke in the opening game of the best-of-three Super Regionals, panic spread like wildfire through some of Wahoo Nation.
Virginia's legion of fans were asking why their Cavaliers couldn't beat Duke, which had won three of four head-to-head matchups with UVA's nationally seeded baseball team.
One head that wasn't spinning was that of Virginia's leader, Coach Brian O'Connor. Oaks, as he's called by his players, kept his cool. He had been in this spot before and still ended up in Omaha, the Promised Land of college baseball.
The skipper didn't reach for the panic button. Hell, there's a question if O'Connor even has one.
No screaming, throwing water coolers or motivational speeches were required.
"I know what our guys are made of," O'Connor said. "I've always believed at this time of year that the calmer, and more poised warrior wins most of the time."
All O'Connor's players did was go out and outscored Duke 26-6 over the next two days and glided to the NCAA Charlottesville Super Regional title, punched the program's sixth trip to the College World Series, and proved that O'Connor's way is the cool way.
Virginia rode a ferocious attack of 16 hits against a plethora of Duke pitchers and the strong right arm of pitcher Brian Edgington to dominate the Blue Devils in Sunday's deciding game by a 12-2 count, ending in a dogpile in the middle of the diamond at Disharoon Park.
Duke had no answer. Coach Chris Pollard threw everything — nine pitchers — but the kitchen sink at Virginia's offense, while Blue Devil hitters never could figure out how to handle Edginton's split-finger. Edgington, who struck out a season-high 11 batters, pitched a complete game (second of his career) and allowed only two runs on nine hits. It was the first complete game thrown by a Wahoo hurler in nine years.
It was the second strong pitching performance by a Virginia pitcher in as many games, matching Connelly Early's domination of the Devils in Saturday's 14-4 win. Edgington, Early and Friday starter Nick Parker, who has been solid all season long, are all success stories from the transfer portal: Edgington from Elon, Early from Army and Parker from Coastal Carolina.
Asked in Sunday's postgame if the transfer trio had a nickname since they all came from the portal, Edgington couldn't come up with much.
"We all live at UHeights, so maybe the U Crew," the right-hander chuckled.
Nah, there's got to be something more clever, right?
"Credit to Edgington and the fact that some of our guys just didn't recognize the splitter coming out of his hand, and it worked well with his fastball today," Pollard said. "You saw some swings where we recognized the fastball right out of the hand and then we were swinging over top of his split-finger, and that was a good pitch today.
"We were good at hunting the fastball at times, but when you're locating your off-speed as well as he was today, you're able to get guys off the fastball, you can create some in-between timing. We had a couple of guys hit it on the screws that were ready for his fastball, and all of a sudden he started landing that split-finger in the zone. That's what good arms do."
Edgington, who improved to 9-3 on the season, and who wound up at the bottom of Virginia's celebratory dogpile when the game ended, said the splitter is typically his best pitch and it was working to near perfection against the Devils.
"I just stuck to the gameplan and did my part, which is to put up zeroes or ones [on the opponent's side of the scoreboard]," Edgington said.
"Edgington was spectacular," O'Connor said. "To say a little about who he is, when I got a chance after the celebration to hug him, the first thing out of his mouth was thanking me for the opportunity for him to come here. I know he values the opportunity that he's had here, and he has absolutely made the most of it."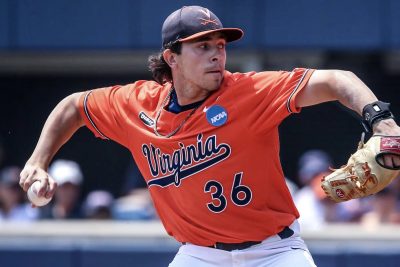 While Edgington was handcuffing Duke's batting order, he was getting all the run support a pitcher could dream of, led by shortstop Griff O'Ferrall, who went 4 for 5 with an RBI and scored two runs. Centerfielder Ethan O'Donnell, who bats behind O'Ferrall, was 3 for 4 with two RBI and scored three times.
Meanwhile, first baseman Ethan Anderson (14) and designated hitter Anthony Stephan (5), blasted home runs in Virginia's assault.
"If they play like that, they're going to be a very tough out in Omaha," Pollard said.
While UVA jumped to a 5-0 lead in the second inning (see related game story here for a blow-by-blow account of the contest, plus box score, highlights and notebook), Duke got back into it in the top of the sixth on a two-run homer by Jay Beshears (his 15th of the season). But Edgington got even tougher, and Virginia's bats responded with a four-run bottom of the sixth.
The response delivered a crushing blow to Duke's ambitions.
"Yeah, they did that yesterday, too," Pollard said. "It's just a hallmark of a really good offense. They've done a really good job with their responses. We exacerbated the ante by not handling it.
"They're just so explosive that if you make a mistake, if you don't execute a pitch to an intended location, or you give them a free base, or you make a mistake in the small-ball game, they can just use that. It feeds them and they get momentum. We couldn't close the gap either day."
Some observers might have been surprised by Virginia's ability to answer, probably the same ones who were ready to jump off a bridge after Friday's loss, but not the Head Wahoo, Mr. Cool.
"Our ability to respond, be resilient and not sit around and feel sorry for ourselves is a great quality to have," O'Connor said. "Resiliency is an incredible quality for any of us to have in life, to learn how to bounce back and handle adversity. I told them in the huddle afterwards it's a special quality that they have learned."
Now, all lessons learned, it's on to Omaha, the mecca of college baseball.