'Hoos News: Women's Tennis Ranked No. 23 In Preseason Rankings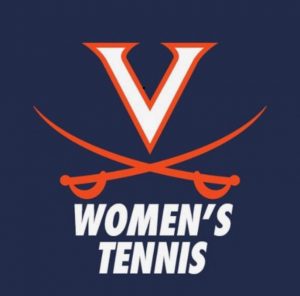 Courtesy UVA Sports Media Relations
The Virginia women's tennis team enters the dual portion of the season ranked No. 23 in the Oracle/ITA Rankings with the release of the preseason polls by organization on Wednesday.
Virginia, which opens its season at home on Jan. 19 with a doubleheader against Quinnipiac (10 a.m.) and Army (3 p.m.) at the Boar's Head Sports Club, also enters the dual portion of the season with a presence in the singles and doubles rankings.
Following a strong fall performance, senior Meghan Kelley (Falmouth, Maine) enters the dual portion of the season ranked No. 32 in singles. She also pairs with freshman Sofia Munera (Pereira, Colombia) as the No. 10 tandem in the doubles rankings.
The Cavaliers finished the 2017-18 season as the No. 23 team in the nation following an appearance in the second-round of the NCAA Tournament and a 16-9 record under first-year head coach Sara O'Leary. Virginia also finished with a 9-5 mark in the ACC, tied for the third-most wins in conference play in program history.
Mueller Named ACC Co-Wrestler Of The Week
Junior Jack Mueller of the Virginia wrestling team has been named the ACC Co-Wrestler of the Week, the league office announced on Tuesday with the release of its weekly honors.
Mueller, the nation's fifth-ranked wrestler at 125 pounds, shared honors this week with 157 pounder Hayden Hidlay of NC State, the nation's fourth-ranked wrestler at his weight class.
Mueller (Dallas, Texas) returned to the Virginia lineup in the Cavaliers' dual at No. 6 Missouri after the initial plan was for him to redshirt this season after representing the United States at the U23 World Games in freestyle.
In his five matches since returning to the mat for Virginia, Mueller has posted a 5-0 record with bonus-point victories in all five matches. The junior posted four wins by pinfall to start the season and lead the Cavaliers in duals with the sixth-ranked Tigers, West Virginia, No. 22 Utah Valley and SIUE. He then posted a major decision to get Virginia started in a dual against No. 21 Lehigh.
Virginia went 3-2 in those matches with wins over West Virginia, Utah Valley and SIUE, and including a tight dual with Missouri that saw the nationally-ranked Tigers rally in the last bout for a two-point victory over the Cavaliers.
The team will return to action this weekend at the Hampton Coliseum, in competition at the Virginia Duals.
Comments