Mueller Leads UVA Past Navy And Into NCAA Quarterfinals
By Scott Ratcliffe
UVA star Sammy Mueller delivered a special performance to spark the sixth-seeded Cavaliers to the NCAA Women's Lacrosse quarterfinal round with a 15-12 second-round victory over Navy. The 'Hoos built enough of a first-half cushion to hold off a late charge from the visitors on a rainy Sunday afternoon at Klöckner Stadium.
The junior midfielder, a Tewaaraton Award finalist for the second year in a row, scored six goals — three in each half — including the dagger with 1:57 remaining that stopped a 5-1 Midshipmen scoring run that had cut a once-comfortable Wahoo lead to just two late in the second half.
Virginia (13-6) will face a familiar foe — ACC rival and No. 3 seed North Carolina — in the Elite Eight next weekend. It's the first trip to the quarterfinal round for the 'Hoos since 2014.
"For the girls to be able to get into that round of eight is huge," said UVA coach Julie Myers. "There's pressure to going in a six-seed and getting that [first-round] bye… but for the girls to feel the elation of continuing on for another week, with no exams left, it's just a time to really play and have fun, and to find just the excitement and the energy in each other and in the sport of lacrosse, so we're excited for this next week."
UVA and Navy (16-5) met in the season opener way back on Feb. 9, with the Cavaliers prevailing by the exact same score, 15-12, in what was an upset at the time (Navy was ranked 13th, Virginia 16th).
Just like in the regular-season meeting, the Midshipmen fell behind in the opening half but kept within striking distance.
On Sunday, the 'Hoos answered Navy's opening goal with three of their own, and converted on five of their first seven shots to set the tone with a 5-2 lead with 12:59 left in the first half. Mueller scored twice during the spurt, the latter on an improvised, catch-and-shoot carom off of the stick of Ashlyn McGovern.
"It had been a long time since we had played, so it was really nice to see that we started strong in that first half and built a lead," Myers said.
Mueller dished out her second assist of the day moments later — a perfect set-up for a cutting Courtlynne Caskin, who bounced it home — before completing the first-half hat trick on a shot that deflected off the post and in to make it a 7-3 game with 9:38 showing.
Senior midfielder Maggie Jackson, a first-team All-ACC selection who scored the first Cavalier goal of the day, added two more in the final 7:45, pivoting and weaving her way through Navy defenders to give UVA a 9-5 edge at halftime. Virginia scored on 9 of its first 13 shots. Wahoo junior goalkeeper Charlie Campbell came away with 5 big saves in the first half to help protect the advantage.
Navy came out firing to start the second half, rattling off four shots in the first three minutes, but came away empty. Nora Bowen and Avery Shoemaker, who combined for 7 goals in the first meeting with the Midshipmen, responded with back-to-back tallies to give UVA its largest lead, 11-5, with 24:58 remaining.
Mueller scored a pair of unanswered goals to make it 13-7 with just over 16 minutes to play before the Midshipmen scored three straight in a matter of 1:38, and all of a sudden the lead was down to three with still 13-plus minutes left. Navy won 10 of 13 draw controls in the second half to help keep possession and slowly chip away.
Bowen put a wicked spin on her defender and ended a near-eight-minute drought for the Wahoos, but Navy wasn't ready to throw in the towel with 8:18 to go.
Kelly Larkin scored her third goal of the game in heavy traffic and then Nicole Victory registered a hat trick of her own off of a Virginia turnover, and with 3:20 to play, it was a two-goal game and all the momentum was on the side of the Midshipmen.
Mueller had the last laugh, streaking through, juking her defender and putting the game away with her 47th goal of the season (it also tied a career high with 8 points), which couldn't have come at a better time for the 'Hoos.
"She knows she has the green light," Myers said of Mueller. "If she gets that ball and she sees a lane — whether the play ends with Sammy or not — she always has that green light to be able to ad-lib off of it and she's just a great player. She's tough as nails, she was composed, she was confident, she wanted to help us win today." 
Larkin, Victory and Andie O'Sullivan — who had the highlight of the day with a pretty behind-the-back goal in the second half — each scored three times to lead the Midshipmen. Navy Goalkeeper Gab Harchelroad finished with 3 saves.
Virginia was out-shot the Midshipmen, 29-25, on the day (16-9 in the second half), but the Cavaliers grabbed three more ground balls (15-12) and caused 10 of Navy's 18 turnovers while only giving it away 13 times.
Campbell made 9 stops for the 'Hoos, who will now prepare for Saturday's matchup with the Tar Heels (16-3), a team that edged Virginia, 13-12, in Chapel Hill on March 9. Carolina advanced with a 15-11 second-round win over Florida on Sunday.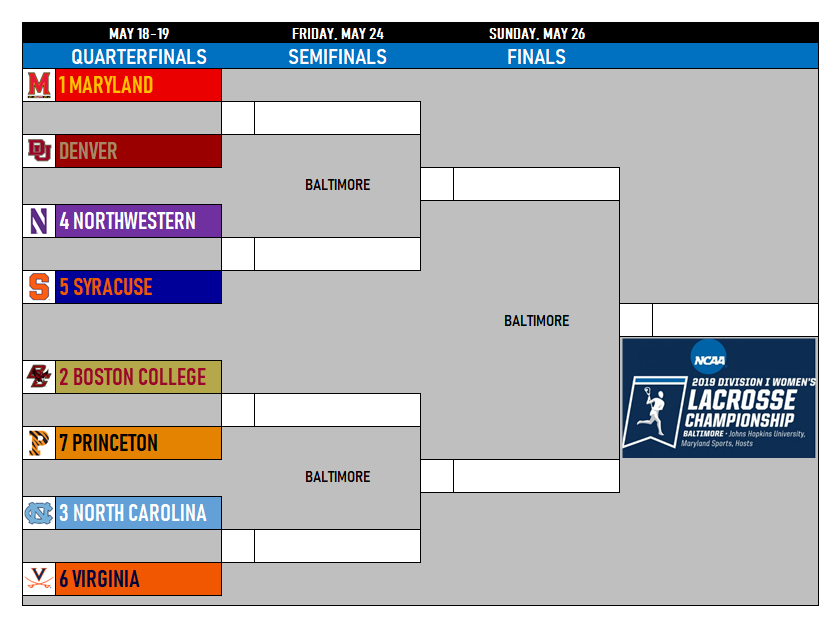 Comments