No. 2 Cavaliers set to face No. 3 Notre Dame for third time this season in NCAA semifinals
By Scott Ratcliffe
The stage is set for Championship Weekend in Philadelphia, as the Virginia men's lacrosse team is just two victories away from claiming another national title. The second-seeded Cavaliers (13-3) will have to defeat No. 3 seed Notre Dame (12-2) for a third time this season in Saturday's second semifinal matchup (2:30 p.m., ESPN2) in order to advance to Monday's championship game.
Top-seeded Duke — which swept Virginia but lost its lone meeting during the regular season to the Irish — takes on No. 5 Penn State at noon in the first semifinal from Lincoln Financial Field on Saturday.
The Fighting Irish (12-2) were ranked No. 1 in each of the regular-season matchups with UVA, but the Wahoos prevailed in both contests — a 15-10 win in South Bend on March 25, followed by a 12-8 triumph at Klöckner Stadium in the regular-season finale on April 30, which was highlighted by a career-high 19 saves from sophomore goalkeeper Matt Nunes.
UVA senior Xander Dickson scored 10 goals in the two games against Notre Dame's Liam Entenmann (6 on the road, 4 at home), who was selected as Goalkeeper of the Year by Inside Lacrosse. In the second matchup, Dickson matched Doug Knight's UVA single-season record of 56 goals, set back in 1996.
The Cavaliers have now won six in a row against the Irish, dating back to the 2019 campaign. Senior short-stick defensive midfielder Grayson Sallade, a native of Lancaster, Pa., told reporters that there hasn't been much discussion internally regarding beating Notre Dame for a third time this season.
"I think we've had their number over the last few years, and they know that and we know that," said Sallade. "But I think when it comes to the Final Four, all that's thrown out the window, and what you've done throughout the regular season doesn't matter, your wins and losses. I think the heightened stage kind of gets rid of all that and I think it's a pretty even playing field, so it just matters how you show up on that day."
Dickson added: "It really doesn't matter what happened in the last two games. I think the first game offensively, we put on a great showing — 15 goals in South Bend, which is tough to do. And then the last game at Klöckner, I think you saw our defense hold them to eight goals, and Matt Nunes I think was 70 percent that day. So sort of the two different tales there, but I think no one's really thinking about those games.
"I'm sure their locker room is saying the same things, that it doesn't matter, which it doesn't. Whoever's playing your best lacrosse right now is who's going to hold the trophy up come Monday. So I think those games, we can learn a lot from them schematically, we'll go over them and steal some things left and right, but I think this is just who can put together the better game."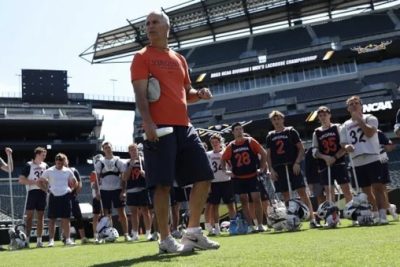 Head coach Lars Tiffany's Hoos were ranked third in the country in both matchups against the Irish in 2023, and have spent the entire season in the top three, including seven weeks at No. 1. He agrees with Sallade and Dickson in terms of wiping the slate clean, regardless of this season's results, and preparing for another intense dogfight with Notre Dame.
"It's really easy for me, and I hope my team, to ignore the first two and just use that as information in terms of slide packages, matchups," said Tiffany. "But I certainly know, our men know, those have been battles. They've been tight ball games well into the third quarter that we were fortunate enough to — the ball went in on our shots later in the third and early in the fourth to pull away and build up a lead. But these are two really, really talented teams and very evenly matched."
Virginia Tewaaraton Award finalist Connor Shellenberger is fresh off an explosive 10-point performance in last week's quarterfinal win against Georgetown, while Payton Cormier (2 goals, 3 assists against Notre Dame this year) and first-team All-American midfielder Thomas McConvey (hat trick in the second matchup) are also capable of adding to the team's tally on Saturday.
The trio of Shellenberger, Dickson and Cormier accounted for 28 points (15 goals, 13 assists) in the two games against Kevin Corrigan's Irish.
"I look at it like we've got to find a way to be better than we were in the first two [meetings], because we didn't win," Corrigan said when asked about playing the Cavaliers again. "Listen, we know if you're going to beat these guys, you have to have contributions from a lot of people — you're not going to be able to ride one guy. So we'll see how it plays out.
"I hope we're equipped to handle their length and their acumen, and make sure that we were shooting the ball well and all those kinds of things. But we're not going to overthink it, because we feel like we're built for making the subtle changes that you need to make as you go along, whether it's within the game or preparing for the game."
For the Hoos, it all starts at the X with sixth-year specialist Petey LaSalla, who claimed 31 of the 53 faceoffs (58 percent) he took against the Notre Dame combination of Colin Hagstrom and Will Lynch this season.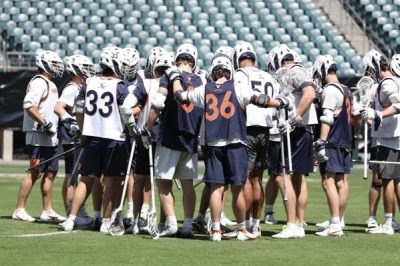 Defensively, the Cavaliers' collective confidence has grown with the improved play of Nunes between the pipes, according to Tiffany, dating back to the first meeting in South Bend when he recorded 14 saves on 24 shots on goal.
"What a joy it's been to see — really starting with the first time we played Notre Dame this season — for Matt Nunes," Tiffany said. "We went into that Notre Dame game out there in South Bend not feeling too comfortable where Matt was at that point, and boy, did he step up in that game. And then ever since, the month of April and so far here in May, he's just not letting shots go in that he's got a good chance at, and he's seeing the ball really well."
If the Hoos can put it all together one more time Saturday afternoon, it will be on to the national title game on Memorial Day, where the Cavaliers would be playing for the program's 10th championship (1952, 1970, 1972, 1999, 2003, 2006, 2011, 2019, 2021), and third in the last five seasons.
"That is what we've established here, building on the tradition of way back to Ace Adams and Glenn Thiel, and certainly Dom Starsia, and propelling that forward," Tiffany said of his predecessors. "Can we have the mindset where pressure is a privilege, where we are the pressure. That we embrace this time of year and then we just have fun with it. We just cut it loose, let it rip, and say, 'Hey, we've worked really hard for this. Let's have fun. Let's enjoy it.' And the biggest stage is our stage."
📍Checkin' in from The Linc. pic.twitter.com/nygX1Ykvmo

— Virginia Men's Lacrosse (@UVAMensLax) May 26, 2023