O'Connor: UVA should be comfortable with Omaha field dimensions, similar to Disharoon
By Jerry Ratcliffe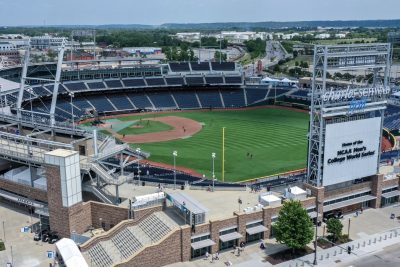 The home run ball has returned to cavernous Charles Schwab Field in Omaha (formerly TD Ameritrade Park) over the past couple of years, but that's not a huge concern for Virginia coach Brian O'Connor.
In fact, the Cavaliers' skipper believes that the Schwab Field dimensions should be welcoming to his ball club, which isn't really known for its home-run capabilities. UVA is 68th in the nation in roundtrippers, 82 of them in 63 games. Those numbers are well behind a few of the other teams in the field — LSU (second in the country in HRs with 133 in 63 games; Florida (fourth, 129 in 65 games); and Wake Forest (also fourth, 129 in 62 games).
Home runs aren't the key as much as staying in the gaps, in O'Connor's opinion.
"It's a big ballpark," the UVA coach said during the College World Series media day in Omaha on Thursday afternoon. "We play in a pretty vast ballpark, so our guys are used to that.
"It's very similar to our ballpark in Charlottesville. It's only three feet further in this stadium in left field and right field than it is in our ballpark."
O'Connor was spot on. Here are the measurements to the fences in both Schwab and Disharoon Park:
Outfield wall — Schwab Field; Disharoon
Left field — 335; 332
Left center — 375; 370
Center — 408; 405
Right center — 375; 372
Right field — 335; 332
Virginia leads the NCAA in doubles this season with 169, and also leads in doubles per game with 2.68.
"Staying in the gaps and runs are a lot of times tough to come by because of the level of defense and pitching that you face, so it comes down to clutch, two-out RBIs and putting the ball in play," O'Connor said.
"Somebody told me this morning, and I didn't even realize it, that [Virginia] is leading the country in doubles. That's a pretty important stat, I believe, in this ballpark, because having coached previous teams here and seeing guys like Mike Papi and Derek Fisher and different players over the years that have played for us in this ballpark, and see them absolutely crush balls and not get the ball out of the ballpark, so it's important that you put the ball in play. A good, two-strike approach. Certainly the pitching that you face this time of year is elite, right? That's a challenge in itself."
Virginia also leads the nation in team batting average with a collective .335 and 753 hits.
When it was brought up about how O'Connor put together the country's most lethal offense, he didn't blink.
"Yeah, it's called great players (laughing)," the coach replied. "It really is. I mean, we have got a really talented lineup. It's a tough lineup. And the depth in the lineup is really good, one through nine, there's opportunities to score runs. They've done it all year long.
"We didn't do this just lately the last couple of weeks. Certainly we've got a tremendous challenge in front of us. I'm very aware of the pitcher from Florida tomorrow night (see our related story breaking down the Gators here) and his talent, and that will be a great opportunity for our guys to compete and show what they're made of."
O'Connor said that UVA's offensive performance, the consistency of the batting average, doubles, etc., have been ingrained in his team from day one and how the coaching staff puts the practices together, along with the preparation and developmental system.