Rohde expected to provide more scoring punch for Bennett, Cavaliers
By Scott Ratcliffe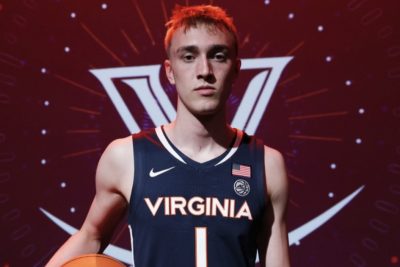 Following the mass exodus in the UVA basketball program after last season, head coach Tony Bennett saw a diamond in the rough, so to speak, in transfer Andrew Rohde, and is happy to add his scoring ability to a roster that lost a large chunk of its offensive output from a year ago.
"We are excited to add Andrew to the Virginia basketball family," Bennett said. "Andrew is a talented guard who had a terrific freshman season at St. Thomas. We look forward to him joining our program."
Rohde, a 6-foot-6, 185-pound sophomore wing, has found a second home in Charlottesville after transferring from St. Thomas College in Minnesota in the spring.
Last season as a freshman with the Tommies, Rohde torched the nets, finishing the season strong with several 20-point performances down the stretch (eight times across his final 10 games).
He scored in double figures in all but three games all season, averaging 17.1 points per game on 45-percent shooting (189 for 422) from the field and 32-percent (56 for 175) from long range. He made at least one 3-pointer in all but four contests, and sank three — or more — triples in nine games last season.
Rohde was also reliable from the charity stripe, connecting on 97 of his 119 free-throw attempts (82 percent). He poured in a career-high 27 points in the regular-season finale at North Dakota. Rohde started all 31 games for the Tommies, and was named an all-conference first-team selection and the Summit League (formerly known as the Mid-Continent Conference) Rookie of the Year.
"I mean, going into it, I didn't really think a lot about what accolades I was trying to achieve," he admitted. "I was just trying to play my hardest and help my team win the most amount of games. So I wasn't really going in thinking of the certain things I was going to win, but obviously it's a blessing to be able to win those awards."
Rohde is a solid defensive player as well, and has a knack for picking up steals. He averaged 3.7 rebounds, 3.6 assists and 1.7 steals per game. Rohde ranked sixth in the Summit League in scoring, second in steals, fifth in assists and fourth in field-goal percentage. Not too shabby for a first-year player.
In his two Summit League Tournament appearances, Rohde averaged 23.5 points, 4 rebounds, 2.5 assists and 2.5 steals, and shot 50 percent from downtown (8 for 16). He was named to the all-tournament team as a result.
So how did he wind up at St. Thomas? Was he overlooked coming out of high school or did he just overachieve in his initial season at the college level? Rohde was a 3-star prospect, rated No. 316 nationally in the 247 Composite rankings coming out of Brookfield. He was also offered by  Wisconsin-Milwaukee, DePaul, Appalachian State, Central Michigan, Western Michigan, Western Illinois, Illinois-Chicago and Bowling Green.
"Yeah I think I was a little bit under-recruited in high school," Rohde said, "but it was all God's plan and I ended up where I was supposed to end up that first year, and it was a blessing in disguise, for sure. And obviously in high school, every kid wants to go play at the highest Division-I school and do all that stuff, but I think going to St. Thomas was a great opportunity for me."
At season's end, Rohde decided it was time for a step up in competition, as much as he enjoyed his time in Minnesota.
"Yeah, it was amazing," said Rohde. "I love St. Thomas. I love the people — the people there are amazing too, and it was just a great place for me to be, and I'm really glad I spent my first year there."
After putting his name in the transfer portal and hearing from numerous suitors, it was just something about Charlottesville and the Cavalier program that attracted him.
"Being in the transfer portal was a real crazy thing," he recalled. "Just a lot of people calling your phone every day and whatnot. But the thing that stood out to me about UVA was just kind of the family atmosphere that they have here and just the people, because that's really what I was looking for — playing for a coach where I think I could do it and build a relationship with, but also being around great people, and that's ultimately what it came down to, and UVA was the place for me."
Rohde is the highest-rated incoming Virginia transfer (No. 58 nationally), according to recently updated rankings by On3.com (Dante Harris was No. 65; Jordan Minor was 102; Jacob Groves was 251). Rohde was also listed as the 17th-best shooting guard transfer in the country by 247, and is among On3's top 10 "steals" in the transfer portal.
The Bennett name is well-known, well-established and well-respected in Rohde's stomping grounds of Wisconsin, with Tony and his father, Dick, having coached college basketball for years throughout the state of Wisconsin and beyond.
Hailing from the Milwaukee area where he attended Brookfield Central HS, there was a sense of familiarity for Rohde and a Wisconsin connection at UVA, especially with the reputation the Bennett family has built.
"Oh, it's huge. It's huge up there," Rohde said of the Bennett name. "But yeah, I mean, I've known about them since I was little, especially because my parents grew up in the Neenah, Green Bay area, so they were big fans of Dick Bennett as well. So we grew up just knowing the name."
Playing for his father, Tony Bennett made a name for himself as a freshman at Wisconsin-Green Bay in 1988-89, averaging 19.1 points, 2.0 rebounds, 5.1 assists and 1.8 steals per game. He shot 52 percent from the floor (179 for 343), 44 percent from 3-point land (47 for 107) and 85 percent from the foul line (111 for 131). Rohde's numbers weren't too far off from Bennett's in his first year at the Division-I level.
Bennett was named the Mid-Continent Conference Rookie of the Year, and was named to the all-conference second team. For his career at Green Bay, Bennett shot an eye-popping 49.7 percent from beyond the arc (290 for 584) before going on to a three-year career with the NBA's Charlotte Hornets, prior to stepping into the coaching realm.
"He's definitely a better shooter than me. I'm trying to get on his level," said Rohde.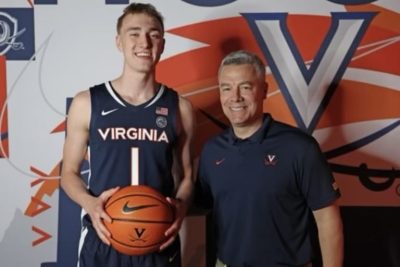 Along with Bennett, there's also an even deeper Wisconsin connection, with Rohde's new Cavalier teammates Reece Beekman and Leon Bond III also hailing from the state.
"I think it played a big role," Rohde said of his decision, "just because Coach Bennett had been from Wisconsin, but also having Reece and Leon here from Wisconsin as well, I think it played a big part."
Rohde and the rest of the Hoos have been bonding with their teammates on and off the court throughout the summer, and he believes all the right pieces are in place for a successful season.
"We have a great team in terms of the people on our team. We have a bunch of good guys," he said. "We like being together a lot, especially just hanging out outside of practice and basketball outside of the gym, which is really good."
Rohde has spent the past few weeks practicing with the Cavaliers, and has seen first-hand how the transition from what he saw at St. Thomas compared to ACC-level competition is going to look.
"It's been a lot different, just a lot of athleticism and length, and obviously defensively," Rohde pointed out. "It's just been crazy going at it every day with my teammates. The practices have been really good. But I'm really excited to play that level of competition this year, and hopefully we can do some damage."
One thing is for certain, and that's the fact that Rohde is enjoying the warmer temperatures in Central Virginia as opposed to the frigid weather up north.
"A lot of snow and long winters, definitely," described Rohde of what he's used to. "It just gets really cold there, but with the snow added on to that, it's just a lot to deal with in the winters for sure."
𝙏𝙝𝙚 𝙄𝙣𝙩𝙧𝙤𝙙𝙪𝙘𝙩𝙞𝙤𝙣: Andrew Rohde

🔶⚔️🔷#GoHoos | @andrewrohde10 pic.twitter.com/JQZc7OdRSd

— Virginia Men's Basketball (@UVAMensHoops) August 3, 2023
Rohde said his main goals in the immediate future are improving his shooting, ball-handling and his defense, and knows that the latter is a top priority that will keep him on the court at UVA.
"I still have a lot to work on the defensive end, so I'm just trying to learn the new defensive schemes and all that sort of thing, and hopefully put it all together," he said.
Learning the Pack Line is always a challenge for a newcomer stepping into the program, but Rohde feels that he's getting the hang of it. It may take some more time to truly get it all down, but it's certainly a point of emphasis in his training.
"I mean, it's a lot different," said Rohde. "Just picking that up and learning it, I think I'm doing a decent job so far, but honestly, there's still a lot I have to work on to get to the place where I want to be."
All things considered, Rohde is ready to start school next week and to continue to get to know the Charlottesville area and the UVA program, and he's just been enjoying the ride.
"Definitely, definitely. I'm loving it so far," Rohde said. "It's a real family atmosphere, and I knew that going through the recruiting process and all that, but now that I've been up here, I really feel it and everybody's there for each other, but Charlottesville is great, too."
Although he's new to the area, Rohde has been impressed by the variety of great food options. For any local restaurant owners considering NIL involvement and are looking for a Cavalier to rep your business, Rohde just may be your guy.
"The food has really drawn me," he said. "The food here is amazing. There's a lot of different food spots, we go out to eat a lot — I like Mel's Cafe, Citizen Burger is good, Jack Brown's is good, Asado, a couple different other spots."
While Wahoo fans might bump into Rohde at one of their favorite local eateries, what kind of player can they expect to see on the floor wearing the No. 4 jersey at JPJ in a few months and beyond?
"I would just say lengthy and gritty," Rohde said. "I try to just play my hardest every time I step on the floor, and I'll do whatever it takes to help my team win."