Spring Football: UVA's new defensive coordinator wants Cavaliers to be simple, yet super aggressive
By Jerry Ratcliffe
We're not sure of John Rudzinski's cooking background, but there's one thing Virginia's new defensive coordinator knows – that the transition of the Cavaliers' defense from awful to solid isn't going to happen overnight.
Last season, UVA's defense wasn't just one of the worst in the ACC, but the entire country. Most point to that side of the ball for the team's collapse and 6-6 finish, including a four-game losing streak to end the season.
Rudzinski, who orchestrated some glorious defensive performances at Air Force before accepting Tony Elliott's challenge to build a winner in Charlottesville, has stressed fundamentals throughout spring drills. Wahoo fans will get a taste of Coach Rud's work on Saturday for the annual UVA spring game (4 p.m. at Scott Stadium).
"If we're going to be good here in this game, we've got to stack days on top of each other and frankly, it's not going to be the snap of the fingers or it's not going to be something that we put in the microwave and it's done," Rudzinski said. "It's something that we're going to have to put in the oven, put on slow roast and see if we can't really, really cook it the right way."
The new DC wants to feature multiple looks for opposing offenses and will present both a base 3-4 defense and adjust to a 4-2-5. Two of Rudzinski's assistants on that side of the ball, Clint Sintim and Chris Slade, have offered up teasers as to what the Cavaliers' defense will be like – aggressive yet conservative, simple for UVA yet complex for opponents, not a lot of blitzing.
"Playing good defense is ultimately making that field short and trying to be really good in the red zone," Rudzinski shared. "If you're going to be playing good defense, you've got to minimize big plays and it'll be something that we'll emphasize as we get going. It's a metric that ends up being a great indicator as far as the success you're having defensively."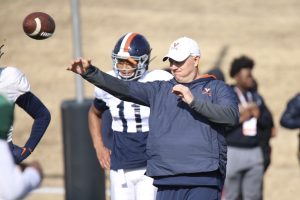 Other than poor tackling, UVA's defense surrendered huge chunks of yardage, lots of points and too many big plays.
Perhaps the main reason former coach Bronco Mendenhall and his staff went to the 4-2-5 last season was because they felt it gave them a better chance to withstand the pressure of all the wide-open offenses the ACC had to offer.
Clearly, that backfired for myriad reasons, but Rudzinski will bring different ideas into his scheme and believes the fact that Elliott's offense will offer more of a running game will help toughen up the defense against the run, an age-old axiom in college football.
"What's been unique for me going against a multiple offense, truly pro-style offense, gives me the chance in the spring to evolve as far as creating some good answers for some good offensive schemes that (offensive coordinator Des Kitchins) has put on the field," Rudzinski said. "At my previous stop, I saw a little bit different offensive schemes that was really super run-dominant, so to see the ball thrown around a little bit more, and to teach some of those different fundamentals has been good for us and it's something that needs to continually evolve to number one, our personnel, and then also to what we feel like we can execute."
Slade said the defense is simple, at least for Virginia's players to comprehend and execute, something Rudzinski felt was necessary.
"Simple is always better, right?" Coach Rud said. "When I communicate with my wife, simple is always better, so it better be the same with our defensive scheme."
That doesn't mean it can't be aggressive at the same time.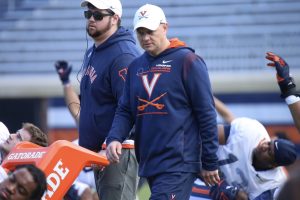 "Yeah, I'll tell you what, we want to ge a super aggressive group," Rudzinski said. "I think guys get a chance to play super aggressive if they know what to do, which goes back to simplicity.
"If we can coach it, if we can minimize our terminology and be avle to communicate it in a very concise way, that gives us an ability  for our guys to be able to learn it, but then also, it's such a fast game. The talent we play here in the ACC is so darn good, we just don't have the benefit from having to think. So our guys have got to ge able to react."
Because it's spring ball, Virginia won't be whole until training camp when freshmen come in and some transfers will be set, so what fans see on Saturday certainly won't be a finished product. It will take time, but coaches are busy on building a foundation.
Still, the new defensive boss has seen work from some players this spring that has caught his attention, including inside linebacker Nick Jackson, nose tackle Jahmeer Carter, defensive tackle Aaron Faumui, linebacker Mike Green, linebacker Chico Bennett, safety Antonio Clary and cornerback Anthony Johnson.
In case you missed it: For more UVA Spring Football coverage, click here: Quarterbacks