Tale of the Tape: Virginia at No. 9 Florida State
Virginia looks to avoid a three-game losing streak tonight when the Cavaliers travel to the Sunshine State to face ninth-ranked Florida State (7 p.m., ESPN2). 
The Seminoles (14-2) have won seven in a row and closed strong in their previous outing on the road against Wake Forest to move to 4-1 in conference play. The 'Noles are the only ACC team unbeaten at home this season — a perfect 8-0 at the Donald L. Tucker Center — and have had a full week to prepare for the Wahoos (11-4, 3-2). They'll be hoping to keep pace with Duke and Louisville atop the standings as the only one-loss teams in ACC competition.
After falling to Boston College and Syracuse last week, Virginia has dropped out of the AP Top 25 for the first time since Nov. 20, 2017, snapping a string of 46 straight weeks in the rankings. UVA is now 42nd overall according to KenPom.com (3rd AdjD, 229th AdjO), while the Seminoles are rated 14th in Division I (19th AdjD, 28th AdjO).
After dropping the season opener by two at Pitt, the 'Noles reeled off seven in a row before losing by 16 at Indiana in the ACC/Big Ten Challenge in early December, and haven't lost since. 
FSU, which has posted wins over Louisville, Purdue, Florida and Tennessee along the way, is the third-highest scoring team in the conference with 76 points a contest and the second-best shooting team in the league at 47 percent.
The 'Noles are one of the conference's top defensive teams as well, holding opponents to 39-percent shooting per game, good for fourth among ACC squads. Leonard Hamilton's group also leads the conference in steals per game (9.5) and turnover margin (plus-5.3).
Sophomore guard Devin Vassell leads the team in scoring with 12.3 points a night and is ranked among the league's best in both steals (1.6 a game) and blocks (1.2 a game).
Senior point guard Trent Forrest (12.2 ppg, 3.9 apg), at 6-foot-4, will have a seven-inch height advantage over his counterpart, Kihei Clark (5-9). Forrest is an experienced leader who also excels in the steal category with 1.6 a game.
Junior M.J. Walker (11.6 ppg) is an athletic wing who can do damage from just about any spot on the floor. He's knocked down a team-best 21 shots from 3-point land.
Sophomore forwards RaiQuan Gray and Malik Osborne — each averaging right around 6 points — round out the starting lineup, with freshman Patrick Williams (8.8 ppg) and Anthony Polite (6.3 ppg) also heavily involved in the rotation.
As usual, Hamilton's got a couple of 7-footers at his disposal as well in 7-1 freshman Balsa Koprivica and 7-0 grad transfer Dominik Olejniczak, who each average just over 10 minutes per game.
This is the first game in a stretch of three-of-four away from home for the 'Hoos, who stay on the road this weekend at Georgia Tech (Saturday 8 p.m., ACC Network). If the Cavaliers want to remain in the conversation for any chance at the ACC regular-season title, tonight's game is essentially a must-win situation, as a loss drops them to 3-3 and already two games back in the win column with several more big ones to come.
An upset of the 'Noles on their home floor would obviously also greatly bolster Virginia's chances of making it back to the NCAA Tournament for a seventh straight season.
This is the first of two meetings with FSU in a span of 13 days for the Cavaliers, with a rematch at John Paul Jones Arena scheduled for Tuesday, Jan. 28.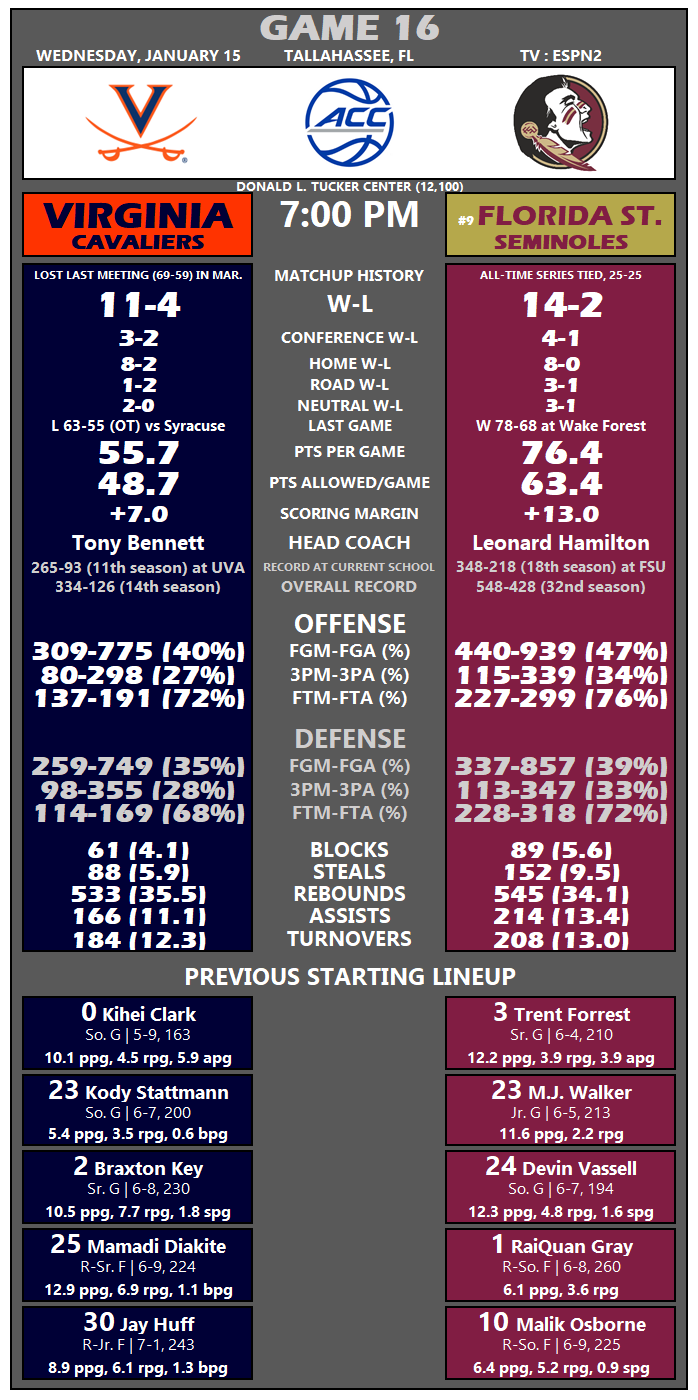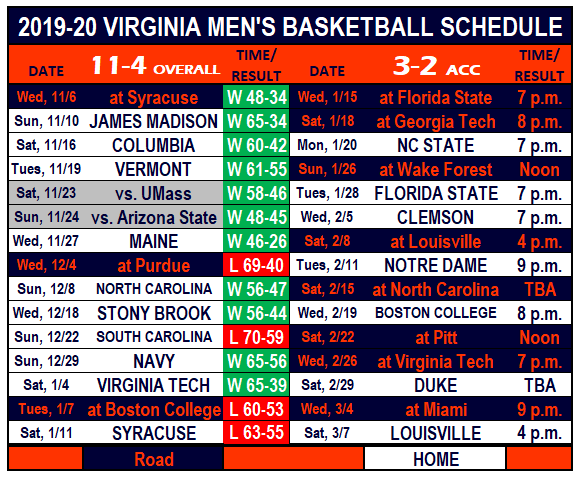 Comments