Ten things we learned about UVA football following the Duke game
By Jerry Ratcliffe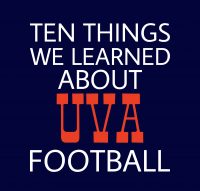 Here are ten things we learned about Virginia's football team after its 38-20 season-opening win over Duke:
1. Poljan effective in Cavalier debut
While his numbers weren't Heath Milleresque, we learned that transfer tight end Tony Poljan can play and should be a strong weapon in UVA's offense going forward. Poljan, at 6-foot-7, hauled in four passes for 44 yards (the longest, 17), and gained two important first downs. We predicted he would be a secret weapon for UVA and believe he will make a serious impact.
2. Speaking of secret weapons…
All the while, Bronco Mendenhall had a "double secret weapon," in true freshman wide receiver Lavel Davis Jr. He emerged from 12 weeks of preseason practice with no fanfare, but man, did he make a big splash in his collegiate debut. Davis (see related story on his game) posted four receptions for 101 yards and two TDs. UVA fans were wondering who QB Brennan Armstrong would throw to after Joe Reed and Hasise Dubois left the program. Davis gives Armstrong another big target at 6-7 and a long wing span.
3. Thompson, Armstead making contributions
Offensive coordinator Robert Anae said last week that it didn't make any sense to leave athletes like backup quarterbacks Keytaon Thompson and Ira Armstead holding clipboards beside him on the sideline. True to his word, both backups got into the game. Armstead, who we learned is now going by Iraken and not Ira, caught a pass for 5 yards in the game. Thompson came in and threw a deep incomplete pass to starting quarterback Brennan Armstrong. While it didn't work, it was still a good trick play to attempt and to give future opponents another element to worry about. Look for both of these guys to continue to get playing time.
4. Virginia finally has a running game
After struggling to put together a reliable ground game during Mendenhall's first four seasons in Charlottesville, the Wahoos showed this could be a solid factor this season. UVA rushed for 188 yards (200 not counting 12 yards lost in sacks), 10 first downs, three touchdowns and 5.1 yards per carry versus a Duke defense that isn't easy to run against. With all of its starters returning on the offensive line, the Wahoos punched holes in Duke's front seven all game long.
5. Monster in the middle
Sophomore Jowon Briggs, nestled his 6-foot-1, 310-pound frame in at nose tackle and wasn't moved very much. Briggs controlled both of the 'A' Gaps and was a big reason why Duke was held to 56 yards rushing (1.5 yards per attempt). Briggs also posted a sack and tackle for loss. He's only going to get better, folks, so watch out.
6. Practice makes perfect
There was a lot of speculation during game week that Virginia might be sloppy in its opener, but after 12 weeks of practice the Cavaliers were pretty solid. UVA was called for only five penalties for 35 yards (offside and pass interference on the defense; false start, illegal procedure on the offense). There was only one fumble, that coming on the opening kickoff (see related story on how Virginia's defense answered that challenge). Armstrong threw two picks and had a couple of stretches where he was inaccurate, but give the guy a break. It was his first start and he'll get better. During UVA's back-to-back TDs in the fourth quarter, he was 7 of 8 for 132 yards and two scores. In the graphic below, you'll see that Armstrong became the 21st UVA quarterback to throw for over 150 yards in his starting debut, posting the second-highest yardage total behind only Aaron Brooks:
7. Wayne Taulapapa can run
How about a nice little Hawaiian Punch? That used to be a commercial for the fruit drink, but Taulapapa gives it a new meaning. He rushed 16 times for a career-high 95 yards and two touchdowns, plus averaged 5.9 yards per carry. There were two particular runs where Taulapapa strutted his stuff: a 19-yard run to the Duke 3-yard line and a first down midway through the second quarter where he shot through the hole on a physical run. He scored two plays later for a 14-10 lead. Then, on Virginia's final scoring drive, the 5-9, 210-pound junior fought his way, 10 yards to the end zone with a very physical run. Shane Simpson, who transferred from Towson in the offseason, showed a lot of moxy as well, averaging 4.5 yards per carry (36 yards on 8 carries) and catching two passes for 11 yards. Sophomore Perris Jones carried twice for 11 yards. Don't discount Armstrong as a runner, either. He rushed for 56 yards and a TD, but had nine yards lost on a sack. He averaged 4.7 yards per attempt.
8. No worries in the receiving corps
Wahoo fans wondered who Armstrong would throw the ball to after losing veterans Joe Reed and Hasise Dubois. We've already talked about Davis and Poljan, plus Taulapapa (two catches) and Simpson. Billy Kemp IV told us in preseason that he was determined to make an immediate impact and he did, hauling in a team-high seven passes for 70 yards. We all knew senior Terrell Jana, who came on strong at midseason last year, would be one of Armstrong's main targets, but so did Duke, who paid particular attention the Jana. He caught four passes for 29 yards.
9. Former Dukes make immediate impact
Wahoo Nation and perhaps JMU Nation wondered how the two transfers from that FCS program might fare at the next level. D'Angelo Amos, a free safety, picked off the first of five interceptions by the Virginia defense. He also had seven tackles. Meanwhile, defensive end Adeeb Atariwa posted two tackles.
10. You don't have to be a dude to Break the Rock
For the first time in Virginia's new tradition, someone other than a player or coach was given the team's greatest honor after a win. UVA associate athletic director for sports medicine, Kelli Pugh, was given the honor for her direction in keeping the Cavaliers as safe as possible from Covid-19. UVA hasn't had any positive tests for more than two months.
ICYMI: She helped get us here … the FIRST 𝘽𝙧𝙚𝙖𝙠 𝙩𝙝𝙚 𝙍𝙤𝙘𝙠 of the regular season was our amazing sports medicine provider, Kelli Pugh ‼️#GoHoos | #THEStandard 🔷🔶 pic.twitter.com/YKfuU3lstA

— Virginia Football (@UVAFootball) September 27, 2020
"She has done so much for our team, so much behind the scenes," said QB Armstrong. "She couldn't be more deserving. I don't know many words besides it just put a smile on my face to see her break the rock. We got here with no Covid positives, we've done a great job. Kelli's done a great job, so many people that deserve a lot of credit and I'm glad to see her break the rock tonight."

Comments