Wahoo Preview, Game 4: Virginia at Syracuse
By Scott Ratcliffe
The ACC opener for Virginia comes against Syracuse in a Friday-night, primetime matchup with the undefeated Orange at the newly dubbed JMA Wireless Dome. It will mark just the second meeting between the schools as conference rivals since Syracuse joined the ACC in 2013. Kickoff is set for 7 p.m. on ESPN.
The Cavaliers (2-1) are looking to build off of their 16-14 win on Saturday over Old Dominion and give Tony Elliott his first conference victory on the road. Elliott faced the Orange (3-0, 1-0 ACC) several times over the past decade as Atlantic Division rivals during his years as Clemson offensive coordinator, and he brings his new team into a loud, hostile environment for his first taste of an ACC contest as head coach. It'll be UVA's first trip to the Dome in 17 years.
The biggest UVA storyline heading into Friday's clash is going up against Syracuse OC Robert Anae and QB coach Jason Beck, who served on former Cavalier coach Bronco Mendenhall's staff for his entire six-year tenure in Charlottesville.
The Orange offense has looked formidable thus far with the former Wahoo coaches dialing things up. Syracuse cruised past Louisville, 31-7, in the season opener before blasting Connecticut on the road, 48-14, and then rallied for a 32-29 home win last weekend against Purdue.
The Orange, who will be gunning for their first 2-0 conference start since joining the ACC and just their second 4-0 overall start since 1991, are led by QB Garrett Shrader, who's ranked sixth in the country with 68 points responsible for. Shrader has completed 51 of his 77 pass attempts (66 percent) for 704 yards, 8 touchdowns and no interceptions.
In fact, Syracuse is one of only four teams nationally to have not turned the ball over at all this season (Georgia, Southern Cal and JMU are the others). On the flip side, the Orange defense is one takeaway from matching the team's 2021 total of seven. Syracuse has also been a perfect 11-of-11 in red-zone scoring opportunities.
Sophomore running back Sean Tucker (5-foot-10, 205 pounds) is the focal point of the Syracuse offense. He has rushed for more than 100 yards in two of his three games this season. Tucker, who ranks 13th on Syracuse's all-time rushing list with 2,376 yards, has now eclipsed the century mark in 14 of his 23 career games, including a school-record streak of seven-straight such contests a season ago. Tucker set the Orange's single-season rushing record in 2021 with 1,496 yards.
Shrader can get it done on the ground as well, as he's rushed for 100-plus yards in four career contests, so the Virginia defense must keep tabs on him too.
Against Purdue, Shrader picked up ACC Quarterback of the Week honors after throwing three touchdown passes in the fourth quarter, including the game-winner in the waning seconds. He also led the Orange in rushing with 83 yards on 17 carries, as Tucker was bottled up for a season-low 42 yards on 18 attempts.
Two of Shrader's defensive teammates were also recognized as ACC Players of the Week after their performance against the Boilermakers. Caleb Okechukwu was named Defensive Lineman of the Week after securing a 17-yard interception return, while linebacker Mikel Jones led the team with 11 stops, including a sack and 1.5 tackles for loss. Jones has the best Pro Football Focus (PFF) pass-rush grade in the country this season of any linebacker (91.9).
Tight end Oronde Gadsden II leads Syracuse in receiving with 193 yards and 3 scores. He caught the game-winner with just 7 seconds on the clock against Purdue, in a fourth quarter that featured six combined touchdowns in the final 12 minutes. Tucker, who owns the Orange's longest reception of the season of 55 yards, is not far behind with 124 yards on 12 grabs.
Virginia quarterback Brennan Armstrong, fresh off setting yet another school record for career passing yards with 7,534, will again be without one of his weapons in Billy Kemp IV.
The majority of the targets last week went to fellow senior Keytaon Thompson (9 catches for 118 yards) and Dontayvion Wicks (4 grabs for 85 yards), with tight end Grant Misch also hauling in 4 receptions for 33 yards.
The Syracuse defense is allowing just 98.3 yards rushing a contest, but giving up 242 per game through the air. The Orange averages about 20 more points a game than Virginia through three weeks, so it may very well be up to Armstrong and the Cavalier offense to put enough points on the board to hang around. As of Thursday morning, Syracuse is listed as a 9-point favorite against the Hoos (over/under 54), according to Caesars Sportsbook.
For more UVA-Syracuse gameweek coverage, check out our Football archives here.
The Statistical Breakdown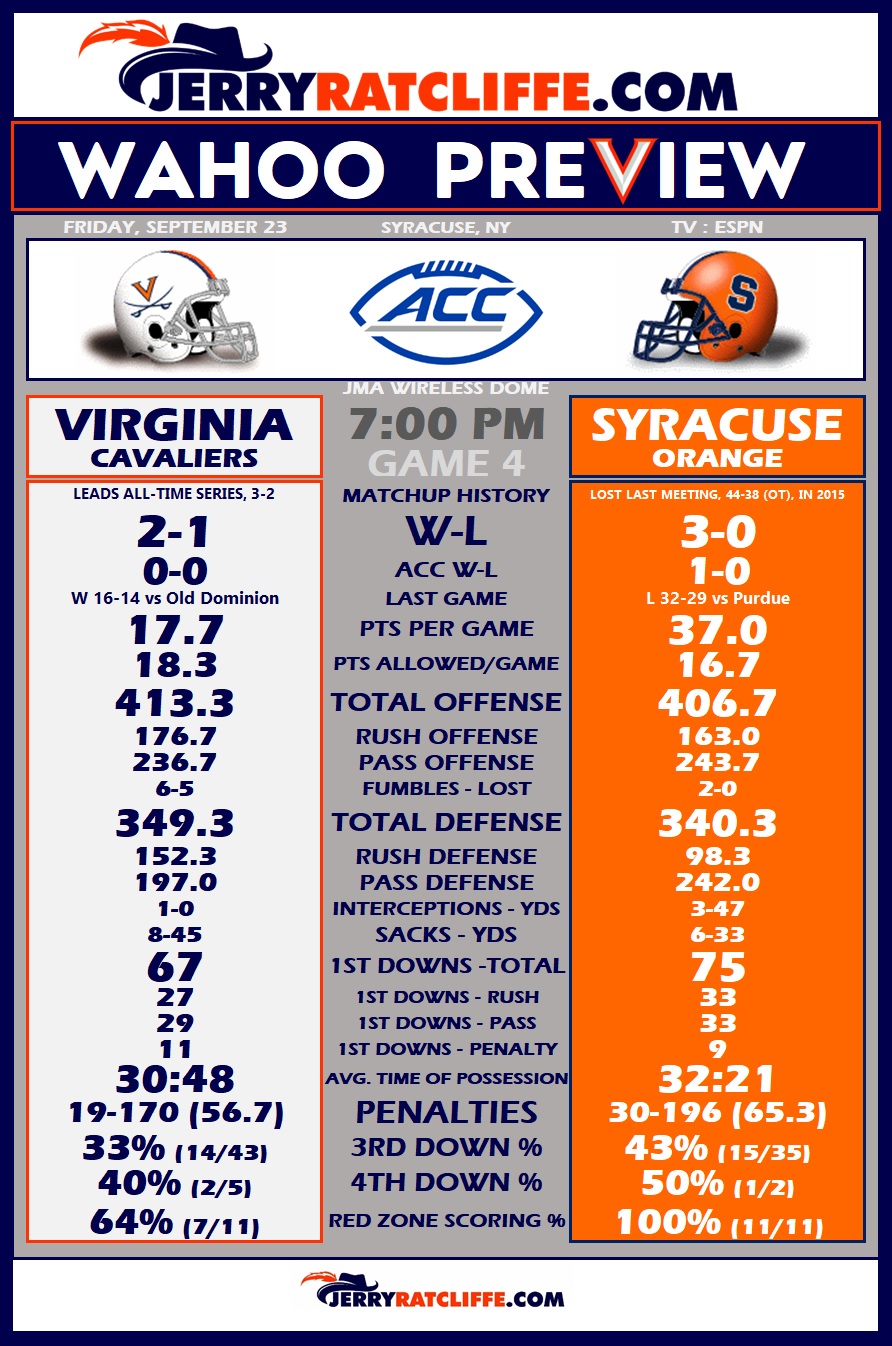 Head Coaches
Virginia
Tony Elliott
At UVA — 2-1 (first season)
Career — 2-1 (first season)
Syracuse
Dino Babers
At SU — 32-43 (seventh season)
Career — 69-59 (11th season)
Broadcast Information
TV: ESPN
Announcers: Roy Philpott (play-by-play), Andre Ware (analyst), Paul Carcaterra (sideline)
Radio: Virginia Sports Radio Network (station list)
Announcers: John Freeman (play-by-play), Tony Covington (analyst), Ahmad Hawkins (sideline)
Satellite Radio:
SiriusXM — 84
SXM App — 84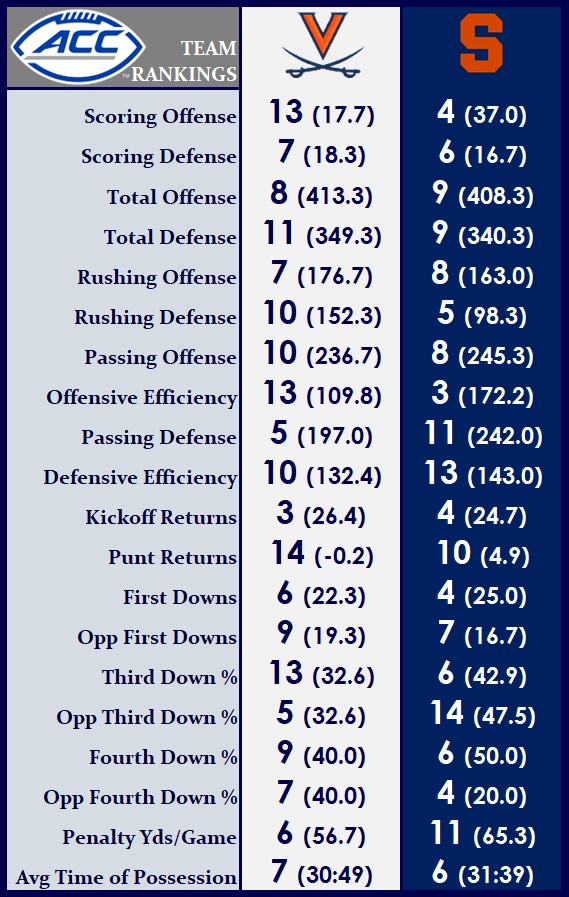 Projected Depth Charts
Virginia
Offense
WR — 3 Dontayvion Wicks (6-2, 208 Jr.)
6 Demick Starling (6-0, 188 Jr.)
LT — 68 Logan Taylor (6-6, 300 So.)
52 McKale Boley (6-4, 331 Fr.)
LG — 76 John Paul Flores (6-4, 308 Gr.)
77 Noah Josey (6-5, 316 So.)
C — 51 Ty Furnish (6-3, 279 So.)
78 Jestus Johnson (6-3, 306 So.)
RG — 67 Derek Devine (6-6, 295 Sr.)
71 Zach Teter (6-5, 314 Jr.)
RT — 64 Jonathan Leech (6-5, 291 Sr.)
60 Charlie Patterson (6-6, 281 So.)
TE — 85 Grant Misch (6-6, 247 Sr.)
44 Sackett Wood (6-4, 244 Jr.)
QB — 5 Brennan Armstrong (6-2, 210 Sr.)
16 Jay Woolfolk (5-11, 208 So.)
TB — 2 Perris Jones (5-7, 180 Sr.)
7 Mike Hollins (5-9, 208 Jr.)
WR — 99 Keytaon Thompson (6-5, 216 Gr.) or
4 Billy Kemp IV (5-9, 176 5th)
WR — 1 Lavel Davis (6-7, 219 Jr.)
38 Sean Moore (6-1, 163 Jr.)
Defense
DE — 82 Kam Butler (6-3, 265 Gr.)
1 Paul Akere (6-4, 258 Gr.)
NT — 90 Jahmeer Carter (6-2, 313 Jr.)
95 Devonte Davis (6-4, 306 Gr.) or
19 Olasunkonmi Agunloye (6-5, 283 Jr.)
DT — 94 Aaron Faumui (6-2, 282 Sr.)
10 Ben Smiley (6-4, 274 Jr.)
Bandit — 15 Chico Bennett Jr. (6-4, 252 Sr.)
91 Jack Camper (6-5, 252 Gr.)
MIKE — 6 Nick Jackson (6-1, 234 Sr.)
41 D'Sean Perry (6-3, 230 Jr.)
WILL — 33 Josh Ahern (6-3, 234 Jr.)
7 James Jackson (6-3, 228 So.)
13 Hunter Stewart (6-3, 242 Jr.)
LC — 23 Fentrell Cypress (6-0, 184 Jr.)
22 Elijah Gaines (6-1, 201 So.)
RC — 3 Anthony Johnson (6-2, 205 Gr.)
26 Jaylon Baker (6-2, 187 Sr.)
SPUR — 20 Jonas Sanker (6-1, 204 So.)
8 Darrius Bratton (6-0, 193 Gr.)
FS — 27 Lex Long (6-3, 215 So.)
21 Donovan Johnson (6-2, 200 So.)
SS — 0 Antonio Clary (6-0, 199 Sr.)
5 Chayce Chalmers (6-1, 213 Jr.)
9 Coen King (6-0, 191 Sr.)
Special Teams
P — 38 Daniel Sparks (6-6, 203 Jr.)
PK — 40 Brendan Farrell (6-0, 209 Sr.)
17 Will Bettridge (5-10, 173 Fr.)
KO — 40 Brendan Farrell (6-0, 209 Sr.)
Hold — 13 Jared Rayman (6-2, 195 Jr.)
LS — 45 Aidan Livingston (5-11, 229 Gr.)
62 Lee Dudley (6-0, 225 Gr.)
PR — 4 Billy Kemp IV (5-9, 176 5th) or
26 Ethan Davies (5-10, 189 So.)
KOR — 6 Demick Starling (6-0, 188 Jr.) or
7 Mike Hollins (5-9, 208 Jr.)
Syracuse
Offense
WR — 82 Damien Alford (6-6, 211 So.)
17 Umari Hatcher (6-3, 181 R-Fr.) or
85 D'Marcus Adams (6-0, 176 R-Jr.)
LT — 60 Matthew Bergeron (6-5, 322 Jr.)
78 Joe Cruz (6-5, 277 Fr.)
LG — 76 Kalan Ellis (6-6, 375 So.)
74 Jakob Bradford (6-5, 302 R-So.)
C — 52 Carlos Vettorello (6-4, 292 R-Jr.)
55 Josh Ilaoa (6-3, 316 So.)
RG — 63 Chris Bleich (6-6, 326 R-Jr.)
72 Mark Petry (6-4, 281 R-So.)
RT — 57 Dakota Davis (6-5, 335 R-Sr.)
70 Enrique Cruz (6-6, 302 R-Fr.)
TE — 19 Oronde Gadsden II (6-5, 216 So.) or
81 Max Mang (6-7, 262 So.)
QB — 6 Garrett Shrader (6-4, 228 Jr.)
16 Carlos Del Rio-Wilson (6-2, 232 R-Fr.)
RB — 34 Sean Tucker (5-10, 205 So.)
20 LeQuint Allen (6-0, 195 Fr.)
WR — 9 Courtney Jackson (5-11, 179 R-So.) or
7 Devaughn Cooper (5-11, 185 R-Sr.)
WR — 7 Devaughn Cooper (5-11, 185 R-Sr.) or
2 Trebor Pena (6-0, 177 So.)
Defense
DE — 17 Steve Linton (6-5, 219 R-So.) or
54 Jatius Greer (6-6, 233 R-Fr.)
DT — 90 Terry Lockett (6-3, 270 So.) or
45 Kevon Darton (5-11, 266 R-So.)
DE — 93 Caleb Okechukwu (6-4, 268 R-Jr.)
30 Chase Simmons (6-4, 257 R-Fr.)
LB — 15 Derek McDonald (6-4, 225 R-Fr.)
16 Leon Lowery (6-4, 225 R-Fr.)
LB — 3 Mikel Jones (6-1, 224 Jr.)
42 Austin Roon (6-3, 228 R-Fr.)
LB — 2 Marlowe Wax (6-1, 239 So.)
12 Anwar Sparrow (6-1, 217 R-Fr.)
CB — 8 Garrett Williams (6-0, 189 R-So.)
24 Jeremiah Wilson (5-10, 171 Fr.)
BS — 1 Ja'Had Carter (6-2, 198 So.) or
14 Jason Simmons (6-0, 193 Jr.)
ROV — 23 Justin Barron (6-4, 220 So.)
19 Rob Hanna (6-0, 170 So.)
FS — 10 Alijah Clark (6-1, 180 So.)
18 Eric Coley (6-2, 200 R-Sr.)
CB — 0 Duce Chestnut (6-0, 198 So.)
20 Isaiah Johnson (6-3, 204 R-Jr.)
Special Teams
P — 36 Max von Marburg (6-0, 183 Fr.)
98 James Williams (6-1, 205 So.)
PK — 91 Andre Szmyt (6-1, 199 R-Sr.)
92 Brady Denaburg (6-0, 180 Fr.) or
98 James Williams (6-1, 205 So.)
Hold — 23 Justin Barron (6-4, 220 So.)
98 James Williams (6-1, 205 So.)
LS — 46 Aaron Bolinsky (5-11, 220 Sr.)
61 Ethan Stangle (6-1, 196 Fr.)
PR — 2 Trebor Pena (6-0, 177 So.) or
9 Courtney Jackson (5-11, 179 R-So.)
KOR — 2 Trebor Pena (6-0, 177 So.) or
9 Courtney Jackson (5-11, 179 R-So.)
UVA Player Stats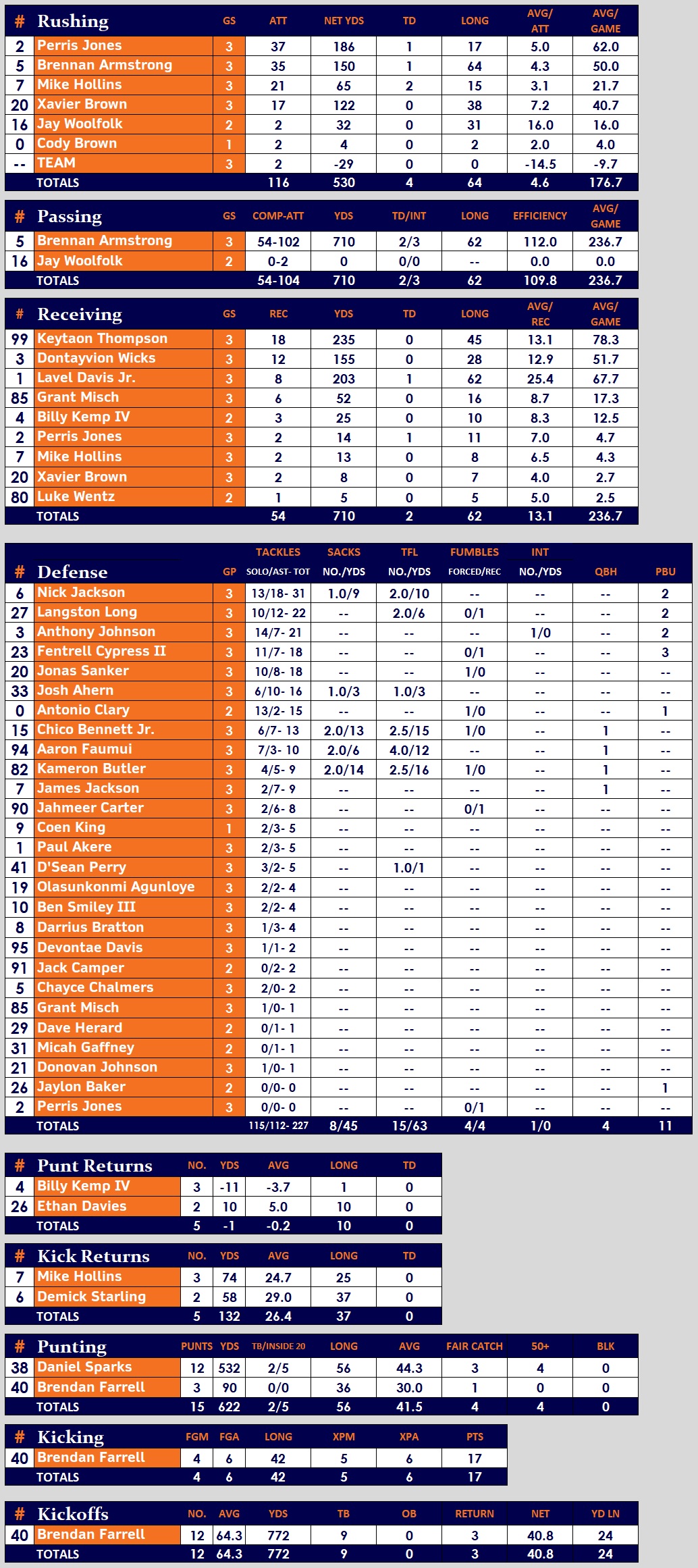 Syracuse Offensive Leaders