Wahoo Preview, Game 6: Louisville at Virginia
By Jerry Ratcliffe and Scott Ratcliffe
Virginia returns to Scott Stadium Saturday for a Homecomings clash with Louisville, as each team will be fighting for its first ACC victory of the season. Kickoff is set for Noon on ACC Network.
Following its 38-17 loss at Duke last weekend, Virginia (2-3, 0-2 ACC) has dropped five league contests in a row, dating back to last season. The last time the Cavaliers tasted a conference win was nearly a year ago (Oct. 23, 2021) against Georgia Tech.
The Cardinals (2-3, 0-3), meanwhile, have lost seven of their last 10 conference games, falling already this season to Syracuse (31-7), Florida State (35-31) and Boston College (34-33). Louisville has lost nine games in a row when either tied or leading in the fourth quarter. While Louisville coach Scott Satterfield is clearly on the hot seat, don't expect anything to happen this week should his team lose.
According to Eric Crawford, a sports journalist or WDRB-TV in Louisville, sources aid that Satterfield's future at Louisville is not contingent on the results of Saturday's game in Charlottesville and that the school appears to have no plans to make a move this weekend or during the off week.
The teams have split the 10 games in the all-time series, with UVA taking four of the five played in Charlottesville.
It'll be another week going up against another deadly, dual-threat quarterback for the Virginia defense — if Louisville starter Malik Cunningham (concussion symptoms) is healthy. Cunningham's status is up in the air for this weekend, and he is considered to be a game-time decision.
"[Cunningham's] status now is day-to-day, and it'll be determined by our doctors what they allow him to do," said Satterfield earlier in the week. "If he's able to go, then obviously he'll go, but if they say he's not ready, then he won't go."
Cunningham's backup is junior Brock Domann, who is 6 for 16 (38 percent) on the season for 92 yards and an interception.
Virginia coach Tony Elliott said he plans to prepare as if Cunningham will play.
"You prepare for what you see," Elliott said. "Over the course of Satterfield's time there, they've played different quarterbacks. You can draw on some of the schematic things they might do different. It's very difficult to reinvent what you're doing in one week for somebody else. Typically you're going to recruit the skill set to fit your offense." 
Cunningham is one of only six players in FBS history to have thrown for 9,000-plus career yards and rushed for 3,000-plus. He's been responsible for four touchdowns in each of the last two games. He rushed for three and threw for another in last week's one-point loss to the Eagles.
Cunningham is currently third in the conference in rushing yards per game with 91.4 (71 carries for 451 yards) and an ACC-best 9 rushing touchdowns. Has scored a conference-high 54 points. He's also thrown for 968 yards and three scores. 1,425 total yards (6th in ACC).
Stopping the run will be key for the Hoos. UVA's defense is allowing 156 yards per game on the ground (11th in the ACC), while Louisville averages a league-best 209 rushing yards per contest.
Elliott has more to concern himself with other than Cunningham.
"Oh, man, their scheme," the UVA coach said of Louisville. "Their scheme challenges you, especially with the wide zone and then all of the play-action, so they can create a little bit more time when you move the pocket to throw some of those deep routes."
Virginia has some inside knowledge of Louisville because Cavaliers defensive coordinator John Rudzinski and his Air Force team defeated the Cardinals in a bowl game last season. In addition, UVA quarterbacks coach Taylor Lamb, played QB for Satterfield when both were at Appalachian State.
"Defensively, [Louisville] is direct. Not as big, but they're very twitchy inside. What has seemed to be our Achilles' heel is when we get to these odd fronts, get somebody head up on our center, it has given us a little bit of a challenge and that's what [Louisville] base out of.
"Also, there's opportunity there. We're going o have to handle the junk. Kind of like Syracuse, when they do a lot of different things, they jump in and out of structure because they can get that seventh defender in the box. They're good enough to play man coverage. Their boundary coverage does a good job. Long, physical, does a good job from a press standpoint."
Outside of Cunningham, here's Louisville offensive players to watch: RB Tiyon Evans has 53 carries for 263 yards (65.8 yards per game, good for 7th in the conference); and the defense will have to liimit receivers Tyler Hudson (62.4 yards per game) and Ahmari Huggins-Bruce (53.0 yards per game).
Defensively, UL linebacker Monty Montgomery had 7 tackles, a pair of sacks, three tackles for loss, two forced fumbles and his first career interception last week against BC.
Louisville's defense is giving up multiple big chunk plays, so there should be opportunities for UVA quarterback Brennan Armstrong and the Virginia offense take advantage.
Through five games last season, Armstrong had thrown for 1,973 yards and 14 touchdowns, as compared to 1,050 yards and 4 touchdowns so far in 2022. Virginia fans have been waiting for the offense to come alive and the timing would be excellent if this were the case.
Senior wideout Billy Kemp IV is not expected to play.
A loss would be damaging. Virginia hasn't started 0-3 in the ACC since 2013, but there's still a lot to play for and time to right the ship.
After playing three of the last four games on the road, five of Virginia's next six contests will be played in Charlottesville where the Cavaliers are 23-5 since 2018.
If the Hoos can pull off a win, and get the first ACC win and Elliott's first ACC victory as a head coach, they can in the process get back to .500 before a 12-day layoff and a bye week before facing Georgia Tech on the road, then there are four-straight weeks of important home games to salvage the season before closing at Virginia Tech.
Virginia ranks dead-last in the ACC in three major categories — offensive efficiency, punt-return average and penalty yardage per game.
For more UVA-Louisville coverage, check out our Football archives here, and you can also listen to The Jerry Ratcliffe Show podcast previewing the "Bourbon Bowl" contest with host Chris Graham.
Hootie was also a guest on The Bob Valvano Show (ESPN Louisville 680) on Thursday to break down the matchup (interview starts at 29:02).
The Statistical Breakdown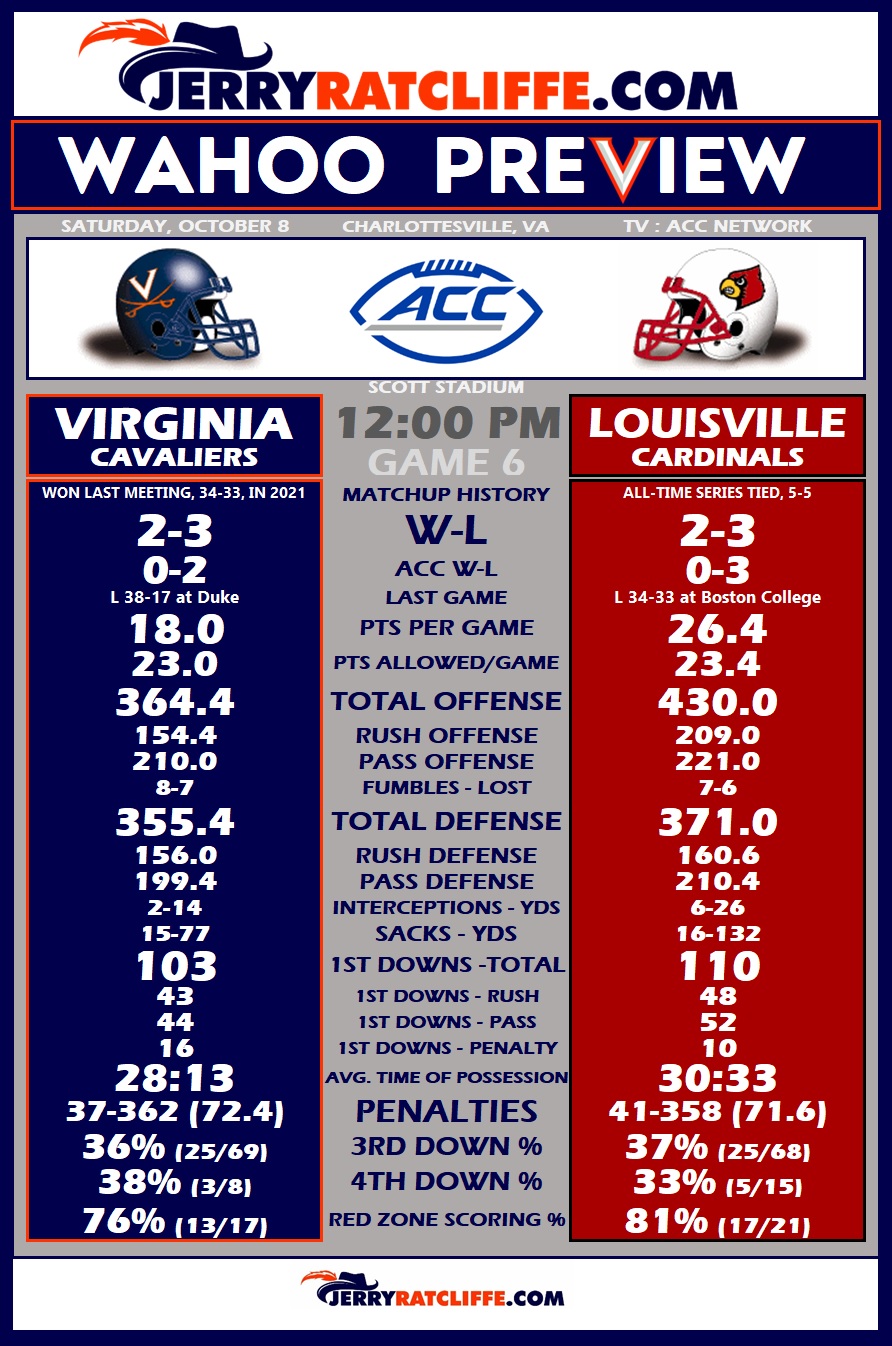 Head Coaches
Virginia
Tony Elliott
At UVA — 2-3 (first season)
Career — 2-3 (first season)
Louisville
Scott Satterfield
At UL — 20-22 (fourth season)
Career — 71-46 (10th season)
Broadcast Information
TV: ACC Network
Announcers: Chris Cotter (play-by-play), Mark Herzlich (analyst), Lericia Harris (sideline)
Radio: Virginia Sports Radio Network
Announcers: John Freeman (play-by-play), Tony Covington (analyst), Jay James (sideline)
Satellite Radio:
SiriusXM — 113 or 193
SXM App — 955
Kickoff Forecast
Mostly sunny, 60 degrees
RealFeel — 64 degrees
Precipitation — 0%
Wind — NNW 7 mph
Humidity — 45%
(Courtesy AccuWeather)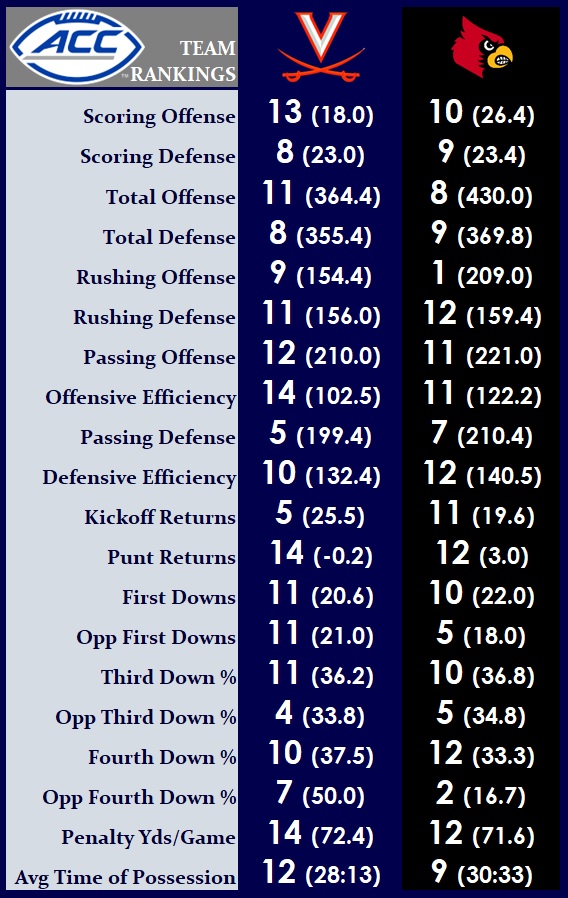 Depth Charts
Virginia
Offense
WR — 3 Dontayvion Wicks (6-2, 208 Jr.)
6 Demick Starling (6-0, 188 Jr.)
LT — 68 Logan Taylor (6-6, 300 So.)
52 McKale Boley (6-4, 331 Fr.)
79 Colby McGhee (6-3, 206 So.)
LG — 76 John Paul Flores (6-4, 308 Gr.)
77 Noah Josey (6-5, 316 So.)
C — 78 Jestus Johnson (6-3, 306 So.)
51 Ty Furnish (6-3, 279 So.)
RG — 67 Derek Devine (6-6, 295 Sr.)
71 Zach Teter (6-5, 314 Jr.)
RT — 64 Jonathan Leech (6-5, 291 Sr.)
75 Houston Curry (6-5, 270 Fr.)
TE — 85 Grant Misch (6-6, 247 Sr.)
44 Sackett Wood (6-4, 244 Jr.)
QB — 5 Brennan Armstrong (6-2, 210 Sr.)
16 Jay Woolfolk (5-11, 208 So.)
TB — 2 Perris Jones (5-7, 180 Sr.)
7 Mike Hollins (5-9, 208 Jr.)
WR — 99 Keytaon Thompson (6-5, 216 Gr.)
4 Billy Kemp IV (5-9, 176 5th) or
26 Ethan Davies (5-10, 189 So.)
WR — 1 Lavel Davis (6-7, 219 Jr.)
86 Sean Wilson (6-4, 219 Fr.)
Defense
DE — 82 Kam Butler (6-3, 265 Gr.)
1 Paul Akere (6-4, 258 Gr.)
NT — 90 Jahmeer Carter (6-2, 313 Jr.)
95 Devonte Davis (6-4, 306 Gr.) or
19 Olasunkonmi Agunloye (6-5, 283 Jr.)
DT — 10 Ben Smiley (6-4, 274 Jr.)
94 Aaron Faumui (6-2, 282 Sr.) or
18 Michael Diatta (6-4, 268 So.)
Bandit — 15 Chico Bennett Jr. (6-4, 252 Sr.)
91 Jack Camper (6-5, 252 Gr.)
MIKE — 6 Nick Jackson (6-1, 234 Sr.)
41 D'Sean Perry (6-3, 230 Jr.)
WILL — 33 Josh Ahern (6-3, 234 Jr.)
7 James Jackson (6-3, 228 So.)
13 Hunter Stewart (6-3, 242 Jr.)
LC — 23 Fentrell Cypress (6-0, 184 Jr.)
22 Elijah Gaines (6-1, 201 So.)
RC — 3 Anthony Johnson (6-2, 205 Gr.)
26 Jaylon Baker (6-2, 187 Sr.)
SPUR — 20 Jonas Sanker (6-1, 204 So.)
8 Darrius Bratton (6-0, 193 Gr.)
FS — 27 Lex Long (6-3, 215 So.)
21 Donovan Johnson (6-2, 200 So.)
SS — 0 Antonio Clary (6-0, 199 Sr.)
5 Chayce Chalmers (6-1, 213 Jr.)
Special Teams
P — 38 Daniel Sparks (6-6, 203 Jr.)
PK — 17 Will Bettridge (5-10, 173 Fr.)
40 Brendan Farrell (6-0, 209 Sr.)
KO — 40 Brendan Farrell (6-0, 209 Sr.)
Hold — 13 Jared Rayman (6-2, 195 Jr.)
LS — 45 Aidan Livingston (5-11, 229 Gr.)
62 Lee Dudley (6-0, 225 Gr.)
PR — 4 Billy Kemp IV (5-9, 176 5th) or
26 Ethan Davies (5-10, 189 So.)
KOR — 6 Demick Starling (6-0, 188 Jr.) or
7 Mike Hollins (5-9, 208 Jr.)
𝙃𝙤𝙢𝙚𝙘𝙤𝙢𝙞𝙣𝙜𝙨. 𝙎𝙖𝙩𝙪𝙧𝙙𝙖𝙮. 𝘽𝙚 𝙩𝙝𝙚𝙧𝙚.#GoHoos⚔️ pic.twitter.com/6pw31UAg1F

— Virginia Football (@UVAFootball) October 5, 2022
Louisville
Offense
QB — 3 Malik Cunningham (6-1, 190 R-Sr.)
19 Brock Domann (6-2, 227 Jr.)
RB — 7 Tiyon Evans (5-11, 213 Jr.)
25 Jawhar Jordan (5-10, 174 R-So.) or
23 Trevion Cooley (5-10, 198 So.)
LT — 70 Trevor Reid (6-5, 305 Sr.)
68 Michael Gonzalez (6-4, 303 So.)
LG — 55 Caleb Chandler (6-4, 295 R-Sr.)
67 Luke Kandra (6-4, 315 So.)
C — 61 Bryan Hudson (6-4, 301 R-Jr.)
51 Austin Collins (6-3, 290 So.)
RG — 74 Adonis Boone (6-5, 294 Sr.)
71 Joshua Black (6-2, 294 R-So.)
RT — 56 Renato Brown (6-4, 311 R-So.)
68 Michael Gonzalez (6-4, 303 So.)
WR — 0 Tyler Hudson (6-2, 195 Sr.)
88 Jaelin Carter (6-2, 202 Sr.)
86 Elijah Downing (6-3, 199 R-Fr.)
WR — 9 Ahmari Huggins-Bruce (5-10, 166 So.) or
4 Braden Smith (5-10, 180 Sr.)
WR — 9 Ahmari Huggins-Bruce (5-10, 166 So.)
80 Chris Bell (6-2, 220 Fr.)
HB — 5 Marshon Ford (6-2, 218 R-Jr.)
45 Duane Martin (6-2, 260 So.)
41 Isaac Martin (6-1, 250 R-Sr.)
TE — 84 Dez Melton (6-3, 243 R-So.)
44 Francis Sherman (6-3, 233 R-So.)
Defense
DE — 9 Ashton Gillotte (6-2, 272 So.)
41 Ramon Puryear (6-3, 267 R-So.)
31 Zach Edwards (6-3, 262 R-So.)
NT — 99 Dezmond Tell (6-1, 296 So.)
93 Jared Dawson (6-1, 284 R-Fr.)
DE — 6 YaYa Diaby (6-4, 270 Sr.)
95 Mason Reiger (6-4, 250 So.)
OLB — 22 Yasir Abdullah (6-1, 240 Sr.)
15 Kam Wilson (6-2, 228 So.)
19 Popeye Williams (6-3, 237 Fr.)
MLB — 7 Monty Montgomery (5-11, 222 Sr.)
11 Dorian Jones (6-0, 235 R-So.)
34 T.J. Quinn (6-0, 223 R-Fr.)
MLB — 1 Momo Sanogo (6-1, 232 Sr.)
23 K.J. Cloyd (6-2, 219 Jr.)
24 Jaylin Alderman (6-1, 228 So.)
OLB — 10 Ben Perry (6-2, 200 R-Fr.) or
14 Marvin Dallas (6-1, 182 Sr.)
CB — 2 Chandler Jones (5-10, 186 Sr.) or
12 Jarvis Brownlee (5-11, 179 So.)
SS — 5 Josh Minkins (6-2, 196 So.)
26 M.J. Griffin (6-1, 200 So.)
25 D.Angelo Hutchinson (6-3, 193 Fr.)
FS — 27 Kenderick Duncan (6-3, 219 R-Sr.)
21 Nicario Harper (6-1, 200 Jr.)
35 Jeremiah Caldwell (6-3, 185 Fr.)
CB — 13 Kei-Trel Clark (5-10, 180 Jr.)
3 Quincy Riley (6-0, 184 Jr.)
Special Teams
PK — James Turner (6-0, 205 Jr.) or
40 Brock Travelstead (6-1, 203 So.)
KO — 40 Brock Travelstead (6-1, 203 So.)
LS — 38 Drew Brenowitz (5-10, 202 Sr.) or
43 Shai Kochav (6-3, 235 R-Fr.)
H — 93 Brady Hodges (6-1, 180 So.)
49 Mark Vassett (6-4, 231 So.)
P — 49 Mark Vassett (6-4, 231 So.)
93 Brady Hodges (6-1, 180 So.)
KR — 25 Jawhar Jordan (5-10, 174 R-So.)
20 Maurice Turner (5-10, 186 Fr.)
PR — 25 Jawhar Jordan (5-10, 174 R-So.)
9 Ahmari Huggins-Bruce (5-10, 166 So.)
This week's threads ⚫⚪️⚫#GoCards pic.twitter.com/GSZ2yLNuhL

— Louisville Football (@LouisvilleFB) October 6, 2022
Comments