With no blocking, Armstrong and UVA offense flops in 24-3 loss at Illinois
By Jerry Ratcliffe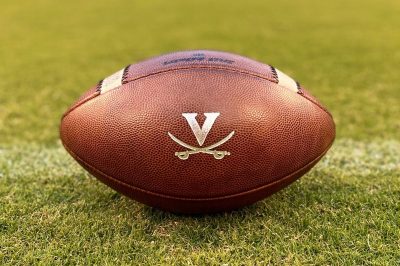 Illinois coach Bret Bielema said that last year's 42-13 loss at Virginia was a turning point in his program. So might have been Saturday's 24-3 win over the Cavaliers in a rematch in Champaign.
UVA had its way with the Fighting Illini last September when Brennan Armstrong passed for 405 yards and five touchdowns as he carved up Illinois' secondary. Bielema and his staff changed up the defense and became one of the best defenses in the Big Ten by season's end.
Those changes were evident in 100-year-old Memorial Stadium on Saturday as the Illini handcuffed Armstrong and his elite receiving corps. Using suffocating man-to-man pressure against UVA's receivers and sending more pass rushers than the inexperienced and porous Cavaliers' offensive line could block, Armstrong had one of his worst days as a quarterback.
Armstrong was a mere 13 of 32 passing for 180 yards, was intercepted twice, sacked five times and harassed all game long. The Cavaliers could convert only 1 of 16 third-down opportunities.
Meanwhile, other than an inability to stop the nation's leading rusher, Illinois tailback Chase Brown (146 yards, 20 carries), Virginia's defense turned in a decent performance and forced four Illini turnovers. Those takeaways kept the door open for the Cavaliers to get back into the game, but the offense flopped, managing only a first-quarter field goal. UVA penetrated Illinois' red zone twice late in the fourth quarter, but drives ended on an interception and an incomplete pass out of the end zone to Dontayvion Wicks on fourth down.
Cavaliers coach Tony Elliott, in only his second game as a head coach, described the loss as a "rough day at the office."
Message boards back home wondered how a Virginia offense that destroyed Illinois' defense last year and was one of the most lethal passing attacks in the country could lay such an enormous egg.
"Hopefully this will be the catalyst that sparks us to make sure that we don't take anything for granted," Elliott said. "I also said last week, especially after halftime of [the win over Richmond] offensively, 'Don't look at the stats.' We have a lot of room to improve, we've got to get better and can we handle success? Offensively, we did not handle success well."
Illinois' defense was much more physical than FCS opponent Richmond a week ago. Apparently someone in Virginia's offensive room must have peeked at those forbidden stats and bought in, because what was unveiled on the field at Illinois didn't even resemble what Cavaliers fans had grown accustomed to a year ago.
UVA's 222 yards of total offense (93 of those came on two plays, a 62-yard reception by Lavel Davis and a 31-yard run by backup QB Jay Woolfolk on the final series) was the lowest output since 2017, a span of 64 games.
Particularly disturbing was the offense's inability to capitalize on two Illinois turnovers in the first two minutes of the game. All the Cavaliers got out of it was a lousy field goal for a 3-0 lead. After that, Virginia could hardly smell the goal line.
"[The defense] gave us the ball twice on our plus-side and we didn't do anything with it," Armstrong said. "Today, it's completely the offense's fault. The defense played their butts off. Four turnovers … what else could you ask for?"
The Cavaliers managed to gain a mere 11 yards on those two drives that started in Illinois territory.
Virginia remained dedicated to attempting to establish a running game, but failed miserably with only 42 rushing yards (minus the 75 yards in Armstrong sacks and a bad snap). Still, when the Cavaliers went to the air, Armstrong was rushed to make inaccurate throws, having little time to find receivers in a gamble by the Illini defense.
Virginia's completely rebuilt offensive line couldn't withstand the Illini pressure, which leaves giant question marks about the remaining schedule. Certainly Bielema's defensive game plan has been Xeroxed by every program from Pittsburgh to Miami, something Elliott and his offensive staff are going to have to address immediately.
"All the things I saw in the game are correctable," Elliott said. "It's just a matter of making sure throughout the course of the week that you have a right mindset from a preparation standpoint. Understand that the separation is in the preparation."
Sounds good, but mindset can't block more pass rushers than the offense has blockers.
Syracuse transfer QB Tommy DeVito completed 17 of 25 passes, including two TD throws, to lead the Illini to a 21-3 halftime lead. Despite all its ineffectiveness in the first half, the Cavaliers were still in the game, but nothing changed in the second half.
All the changes Illinois made after last year's landslide loss at Virginia paid big dividends this time around.
"This was a big statement to me about where we were a year ago to where we are now," Bielema said.
Was it also a big statement about where Virginia was a year ago to where it is now?
"Obviously, [Virginia] has new coaches and everything, but the majority of a lot of their players were there, some of ours are back, and I wanted to see where we are as a program," Bielema said.
Illinois (2-1, and could easily have been 3-0) is in pretty good shape as a program.
Virginia (1-1) remains a big question mark. Until the offensive-line problems get straightened out, the Cavaliers are going to live in the shadows of that question mark with upset-minded Old Dominion coming to town this week, followed by another UVA road trip to 3-0 Syracuse, where former offensive coordinator Robert Anae is awaiting.